PlaySections
By Hiroshi Kajihata
Click on "Download Now" button under Icon or Open AppAddict app on iDevice to download this content for Free
Description
PlaySections is an audio/video player that allows you to freely set marks and play back specific sections of your audio/video files. For example, while you're playing music, you can insert marks where the song transitions between the verse and the chorus, dividing the song into sections. Then you can pick a section from the generated section list and listen to any part of the song.

For each section title, you can enter multiple lines of text. As a result, in addition to verse/chorus labels, you can make notes about the chord progression, measure count, lyrics, and so on, offering a tool that you can use for many purposes.

PlaySections supports section and song loop playback, allowing you to listen to your favorite section on loop. It also features useful functionality including tempo/playback speed adjustment, pitch shift, vocal cancellation, 7 band equalizer, and flip video, making it a perfect app to use in instrument, vocal, or dance practice, or when playing music by ear.

Not only can it read files from the iOS Music Library, but by using the Share Extension/Open-in functionality, you can import files from other applications. For example, you can load a recording from the Voice Memo app that comes standard on the iPhone, letting you create and play back a section list for a song that you performed yourself. Even more, you can use it to study a new language, or to prepare meeting notes.

Many uses
- Set marks for intro, verses, chorus, instrumental solo
- Set chord progressions and lyrics for each section
- Practice of playing musical instruments, singing, and dancing
- Analyze music structure, chords for music dictation
- Great for language learners, transcription from audio files of meeting/conference

Feature Highlights
- Music Library Integration
- Waveform scroll
- Section Marks
- Section title edit
- Loop playback (section, song)
- Speed control (-50% to +200%)
- Pitch control (-12 to +12)
- 7 bands EQ control (-24dB to +12dB)
- FX (vocal cancel)
- Flip Video
- Share Extension, Open-in support (File import)
- Remote control access
- Low latency playback (Audio Unit support)
- Supports all major audio/video formats (AAC, MP3, WAV, AIFF, FLAC [requires iOS 11], MP4, MOV...)
- Background playback
- VoiceOver
- Drag & Drop on iPad
- Inter-App Audio, Audiobus

Support
http://playsections.github.io/
https://twitter.com/PlaySections
[email protected]

---
Video by TRIAMPERSANDY - ROLLY-POP
https://www.youtube.com/watch?v=0RC_rV_dCCg
...More
What's new in Version
2.8.0
Add Inter-App Audio and Audiobus support. You can connect PlaySections to GarageBand and other apps that support Inter-App Audio/Audiobus.
...More
Customer Reviews
No reviews yet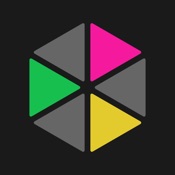 Download for Free
19 Archived versions available
This app is designed for both iPhone and iPad
iTunes Price: $1.99

Category:

Music

Updated:

Jan 18, 2018

Version:

2.8.0

Size:

23.5 MB

Language:

English, Japanese

Seller:

Hiroshi Kajihata
© 2018 Hiroshi Kajihata
Requirements: Requires iOS 9.3 or later. Compatible with iPhone, iPad, and iPod touch.