A Bleaker Predicklement
By Rumpus Animation
Click on "Download Now" button under Icon or Open AppAddict app on iDevice to download this content for Free
Description
The year is 1884 and Victorian London is ready for the greatest Adventure ever told.

Part story, part animated cartoon, part puzzle game - A Bleaker Predicklement is a wonder to behold.
Can you solve the puzzles and help Bertram Fiddle finally track down the despicable Geoff the Murderer?

Explore dark alleys, talk to suspicious characters, uncover the evil plot that threatens Victorian London in this comedy murder mystery like no other.

A beautifully animated Adventure Game, fully Voice Acted and filled to the brim with gloriously detailed artwork and terrible, terrible puns.
Inspired by Hammer Horror, Victorian Novels and Monty Python, it may be the most British game ever!

"A Bleaker Predicklement is the greatest adventure of 1884" - The Evening Burble

"The game has done a perfectly Adequate job capturing the charm of the first game, only on a much bigger scale. As I unlock more of the story, I'm continually surprised and delighted." - Appunwrapper.com

"If you enjoy puzzlers, this is definitely for you. The quirky voices and music fit the game perfectly, but the most noticeable thing is Bertram's strange nose - I'm assuming it's this large nose that helps him sniff out the clues." - Oksana Ryan, Pocketgamer.co.uk

Localised subtitles in
- French
- Spanish
- Russian
- German
...More
What's new in Version
1.4.1
Chinese, Korean, Japanese localisation
...More
Customer Reviews
Love the game but still buggy
This is a fantastic next chapter in the Fiddle story. Very playable but still missing in game tips (walkthrough is online though), crashing near the train station when giving dog sausage and tough to control robot, and strange habit of Fiddle talking in Gavin's voice when the rock is offered to people. Otherwise, great game and a worthwhile buy. Fixing the bugs would make it seem less like a beta and make game play more reliable. For the robot, I needed to check online to see if I missed something because it just wouldn't move correctly. This shouldn't happen obviously. There are other bugs in the train station scene (where they line up to pay the ticket). One time Gavin still had women's clothes on, even though they were removed beforehand, and one time Fiddle actually disappeared! He was still there but invisible, and he reappeared when leaving that scene.
...More
Update on unplayability...
I had so looked forward to the sequel. So sad therefore that it should turn out to be unplayable. Not even considering wasted money here, but simply, that it's truly not progressing beyond the first scene....

...Update...was finally able to finish the game. Still buggy. But it's a cute storyline - the kind I am partial to - so can't help but give it a nice review. Would be so good to have such games done to perform better. Again, glad I could at least play it through to the end...eventually.
...More
Looks Beautiful but buggy
I bought the first and second game as a combo pack. Loved the first story- beautiful, funny, and refreshingly new type of game. I was really excited to play this second part but I can't get past the first scene due to bugs. It automatically kicks me out and starts from the intro scene without saying where I was at all- though I didn't get to go far. I hope there will be bug fixes so I can play and enjoy Bertram's next adventure!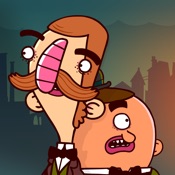 Download for Free
3 Archived versions available
This app is designed for both iPhone and iPad
iTunes Price: $3.99

Category:

Games

Updated:

Oct 17, 2017

Version:

1.4.1

Size:

1.31 GB

Language:

English

Seller:

Rumpus Animation
© 2017 Rumpus Animation
Requirements: Requires iOS 8.0 or later. Compatible with iPhone, iPad, and iPod touch.