Proton Weather
By Judhajit Ray
Click on "Download Now" button under Icon or Open AppAddict app on iDevice to download this content for Free
Description
Proton Weather is a breath of fresh air in the realm of weather apps. It is clean, elegant and works smoothly on any given point of time. It loads basic weather statistics on a small yet compact app layout and sends you weather alerts as soon as there is any changes in your local weather.

Setting up Proton Weather is as easy as opening the app itself. It automatically searches and adds your current location (Of course if you allow it to) after you fire up the app for the first time. You can also search for other locations by using the search bar at the top that appears when you click the Search Location Button. Just type in the name of a location and see how the Proton Weather instantly loads up weather stats of locations that closely match the search term.

TOP FEATURES:
- Quick launch for Status Menubar with hotkey.
- Weather forecast for upcoming four days.
- Important weather stats along with Precipitation, Humidity and Wind speed.
- Current temperature with weather icon.
- Notification upon any changes to the current weather.
- See local temperature in both Celsius and Fahrenheit.
- Easy to search location and load up weather info.
- Open main weather window with keyboard hotkey.
- Open Proton Weather automatically at log in.
- Keep current weather icon on Dock instead of App icon or hide both.
- Choose form 5 additional themes.

There is no over abundance of features and weather statistic figures in Proton Weather that people rarely use or need. It comes packed with only the ones that we need every day. It will be a nice little addition to the list of your daily used apps. It will consume very less of your system resources and keep you updated with the latest trends of weather condition.

So, download Proton Weather today and get weather updates instantly, always.
...More
What's new in Version
1.0.5
- Now weather gets updates automatically after user defined intervals. Time intervals can be changed from App Preferences.
- Temperature graph now can be scrolled sideways. Press shift from your keyboard and scroll over the graph.
- Hot keys for status bar and main window is now more prominent.
- Crash issues on selected macOS versions is now fixed.
- Other minor bug fixes.

- Improved version.
...More
Customer Reviews
Nice graphics but temp conversion is wrong
I saw another reviewer had this problem but I tried the app anyway. The reviewer was right: the F and C conversion is incorrect. When I click C, I get the current local temperature in F. When I click F I get a temperature that's about 60 degrees higher than current. It's January and winter in the US right now; it's certainly not 106 F.

I contacted Support through the app right after purchasing but did not receive a response.
Lacking some features, but only costs 99 cents
First and foremost, this does not work on El Capitan (10.11). It won't let you install it. Nothing about El Capitan should prevent a simple weather app from working in it. 1 Star review until this changes.

Pros:
- 99 cents!
- Looks good
- Shows the weather for my area
- Brand new, so hopefully will work on some of the cons listed below in future iterations

Cons:
- Does not allow you to install on macOS 10.11 (El Capitan) and I can't imagine the app utilizes anything that would prevent it from working in 10.11.
- No option to put the current temperate in the menu bar
- Forecast only shows high/low for next 4 days and no other information
- When opened from the menu bar, it takes a couple seconds to load. This is probably because it is fetching the weather data every time you open it from the menu bar. In the preferences I have it set to refresh the temp every 15 minutes. I wish it would cache the temp so that it instantly loads/shows the weather info when I click on it on the menu bar, and then update the temp and replace the cached temp. Or it would be nice have a refresh button on the pop-up window.
- No option to edit the theme if you open from the menu bar
- Can't have multiple locations
...More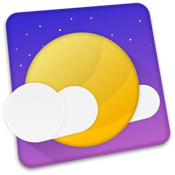 Download for Free
1 Archived versions available
iTunes Price: $0.99

Category:

Weather (Mac)

Updated:

Dec 18, 2017

Version:

1.0.5

Size:

9.5 MB

Language:

English

Seller:

Judhajit Ray
© AppEase
Requirements: macOS 10.12 or later, 64-bit processor