Twitter
By Twitter, Inc.
Click on "Download Now" button under Icon or Open AppAddict app on iDevice to download this content for Free
Description
From breaking news and entertainment to sports, politics, and everyday interests, when it happens in the world, it happens on Twitter first. See all sides of the story. Join the conversation. Watch live streaming events. Twitter is what's happening in the world and what people are talking about right now.


More highlights:

- Watch premium and exclusive live streams directly from your mobile device. No account required.
- Go Live with a tap or sit back and watch events unfold from around the world.

Timeline
- Discover what your favorite sports, news, politics, and entertainment thought leaders are talking about
- Experience dynamic media — like photos, videos, and GIFs
- Retweet, share, like, or reply to Tweets in your timeline
- Write a Tweet to let the world know what's happening with you

Explore
- See what topics and hashtags are trending now
- Discover Moments, curated stories showcasing the very best of today's biggest events
- Get caught up on news headlines and videos
- Relive the latest sports highlights
- Be in the know about pop culture and entertainment
- See what fun stories are going viral

Notifications
- Find out who started following you
- Discover which of your Tweets were liked or Retweeted
- Respond to replies or be alerted to Tweets you were mentioned in

Messages
- Chat privately with friends and followers
- Share Tweets and other media
- Create a group conversation with anyone who follows you

Profile
- Customize your profile with a photo, description, location, and background photo
- Look back at your Tweets, Retweets, replies, media, and likes

Connect
- Get suggestions on influential people to follow
- Sync your contacts to find friends currently on Twitter or invite more
...More
What's new in Version
7.12
A few minor updates to make Twitter an even better place.
...More
Customer Reviews
Longstanding glitches never fixed
I am sick and tired of the glitches with this app. Every time I open it it takes me to a point a few days ago on my feed and I have to scroll all the way to the top to see new tweets. If I close it and open it again, it will take me back to that same old spot no matter how many times I have scrolled to the top. It also constantly shows a notification even though I have none and I have to open and close the app many times to get it to go away. Also telling the app not to show the "in case you missed it" section seems to have no effect because it keeps showing it to me. These are issues I have had with the app for over 2 years at this point and the developers have clearly not bothered to fix them. It is so annoying that I am on the verge of deleting it altogether as it ruins my experience with the app.
...More
I love Twitter
But it's not perfect. I don't want ads to keep popping up on my feed after I get rid of them. I also don't like the in case you missed it highlights. Character counter should come back and opening a link should always open in browser so you can still surf twitter. An example would be if someone posted a hudl highlight or a soundcloud song, if you click the link, Twitter turns into a browser instead of opening the link in the actual browser and keeping twitter free to surf.
Threads Fragmented
I used to be able to follow my threads, responses from other people to my tweet. Now I have no idea which tweet someone is responding nor can I see the tweet I responded to. They're no longer connected. I can see from the comment there were three responses to a tweet. However when I click to open I can't see any of the comments the only thing that exists is my tweet. I have to click on the names in the thread, go to their page to find their responses. What the heck did you all do & WHY? I HATE these new updates they STINK!!! I've already quit FB & will do the same with Twitter if you all can't fix the bugs.
...More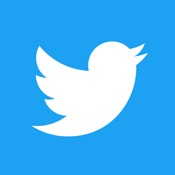 Download for Free
118 Archived versions available
This app is designed for both iPhone and iPad
iTunes Price: Free

Category:

News

Updated:

Nov 17, 2017

Version:

7.12

Size:

185 MB

Language:

English, Arabic, Catalan, Croatian, Czech, Danish, Dutch, Finnish, French, German, Greek, Hebrew, Hindi, Hungarian, Indonesian, Italian, Japanese, Korean, Malay, Norwegian Bokmål, Polish, Portuguese, Romanian, Russian, Simplified Chinese, Slovak, Spanish, Swedish, Thai, Traditional Chinese, Turkish, Ukrainian, Vietnamese

Seller:

Twitter, Inc.
© Twitter, Inc.
Requirements: Requires iOS 9.0 or later. Compatible with iPhone, iPad, and iPod touch.