Camera Plus Pro
By Global Delight Technologies Pvt. Ltd
Click on "Download Now" button under Icon or Open AppAddict app on iDevice to download this content for Free
Description
Camera Plus Pro 5 comes with pro-like features to offer amazing photo & video captures, awesome image-editing and seamless sharing capabilities. The app goes beyond regular point-and-shoot iPhoneography.

With this special revamp, Camera Plus Pro carries over the same detailed level of manual control that made it the favorite of professional photographers worldwide - Faster. More Powerful. Pro.

Camera Plus Pro focuses on providing users with greater control over their captures. Whether it is the amazing HDR, the cool editing options or the amazing live filters, Camera Plus Pro has got you covered.

Photo Features:
- Independent Photo/Video Capture Controls: For separate Exposure settings, Brightness lock, White-Balance Lock etc.
- Live Photo Filters: 18 immaculately themed Live Filters with preview in full resolution.
- Burst Mode: Amazingly fast captures with up to 10 continuous photos at one go.
- Choice Of Resolutions: Camera Plus Pro gives you 3 different image quality resolutions to choose from.

Video Recording Features:
Apart from the independent pre-record controls for Exposure and Brightness lock and White-Balance Lock, Camera Plus Pro brings:
- Time-Lapse Video: Comes with different duration settings with a choice of 9 Live Filters before you record.
- 9 amazing Live Video Filters (can be applied before you start recording) with preview.
- Choice Of Video Quality: 480p and HD.
- Also included is a Pause/Resume and Smooth Zoom feature.

** Edit Photos Like A Pro - For photographers who need a hands-on approach involving precision, Camera Plus Pro comes loaded with real-time, full-resolution photo-editing options.

- 45 Post-Capture Photo Filters: Comes perfectly categorized for use in any situation. Choose from sections like Nostalgia, Artistic, Distortion and more!
- Elaborate Editing Suite: Detailed and powerful editing options to adjust the Brightness, Saturation, Hue, Contrast, Sharpness, Temperature etc. You are in total control.
- Other must-have features include Crop, Rotate, Flash (post-capture brightness adjustment), Borders and other photo refinement options.

** Manage Like A Pro - With great number of captures comes great responsibility in managing them effectively. Camera Plus Pro will make sure your captures are easily accessible and safe.

- Quick Roll: Serves as your lab space. Edit photos as much as you want and then copy your masterpieces to the Camera Roll.
- Private Folder: Easily send your most precious captures here and lock it with a password. For picture perfect security.
- Copyright: Add a unique signature to imprint photos as yours.
- Time and Date Stamp for photo captures.
- Import/Open in: With Camera Plus Pro, you get to import photos into the app and edit them like a pro.

** Share Like A Pro - After capturing all those shots, Camera Plus Pro can efficiently share them to multiple online services in one tap!

- Send photos to Facebook, Instagram, Flickr, tumblr, iMessage, and Email. Videos can be shared to Facebook, YouTube, tumblr, Twitter and iMessage.
- Instant Wi-Fi and FTP transfers for quick copying of files to another device like a PC.

"Camera Plus Pro is an incredibly robust camera app, complete with a great user interface and variety of tools that make taking, editing and sharing photos with your iOS device a treat." – The Next Web

Camera Plus Pro comes localized in German, Italian, Spanish, French and Japanese to offer a more personalized experience.

*****************


Follow us on:
- twitter.com/camerapluspro
- facebook.com/camerapluspro

- instagram.com/camerapluspro

*****************
...More
What's new in Version
5.2.9
Bug fixes and performance improvements
...More
Customer Reviews
Poor auto focus in zoom
Zooming in causes photos to come out quite blurry as compared to the iPhone built in camera app. Also the auto contrast can cause photos to be washed out compared to the built in camera app.

Do not recommend. I've stopped using the app.

Otherwise I like the user experience and features. Wish the app took better pictures.
$2.99 and worth every penny
Just got this yesterday and so far I am loving it!
HDR....?
In the description details of the app in the App Store it's says it's great for HDR, or something to that conveyance.
I've looked through the app & haven't found any setting for HDR.
Can you help me out here?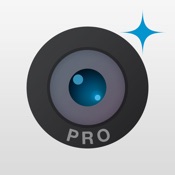 Download for Free
12 Archived versions available
This app is designed for both iPhone and iPad
iTunes Price: $2.99

Category:

Photo & Video

Updated:

Mar 24, 2017

Version:

5.2.9

Size:

40.4 MB

Language:

English, French, German, Italian, Japanese, Spanish

Seller:

Global Delight Technologies Pvt. Ltd
© 2008 - 2017, Global Delight Technologies Pvt. Ltd.
Requirements: Requires iOS 8.0 or later. Compatible with iPhone, iPad, and iPod touch.