Jack & Jill
By James Patterson
Click on "Download Now" button under Icon to download this content for Free
Description
In the middle of the night, a controversial U.S. senator is found murdered in bed in his Georgetown pied-a-terre. The police turn up only one clue: a mysterious rhyme signed "Jack and Jill" promising that this is just the beginning. Jack and Jill are out to get the rich and famous, and they will stop at nothing until their fiendish plan is carried out.

Meanwhile, Washington, D. C., homicide detective Alex Cross is called to a murder scene only blocks from his house, far from the corridors of power where he spends his days. The victim: a beautiful little girl, savagely beaten--and desposited in front of the elementary school Cross's son, Damon, attends.

Could there be a connection between the two murders? As Cross tries to put the pieces together, the killer- or killers - strike again. And again. No one in Washington is safe - not children, not politicians, not even the President of the United States. Only Alex Cross has the skills and the courage to crack the case-but will he discover the truth in time?

A relentless roller coaster of heart-pounding suspense and jolting plot twists, Jack and Jill proves that no one can write a more compelling thriller than James Patterson-the master of the nonstop nightmare.
...More
Customer Reviews
Did anyone proofread ?
The book is a good read,but there are far too many typos! Makes for some frustrating moments.
Holy 4th grade proofreading!
Please, someone take a red pen to this book! Loved the plot, hated the shoddy proofreading.
Badly written
Painful read. Looks like the author wanted to fill a page quota. Lots of repetitions and unnecessary time and again explanations. So many sentences with the same words (what's up with the "anyway"s at the ends?). You are so frustrated with the writing that you don't even care who the real killer is. Forced myself to finish it because I paid for it.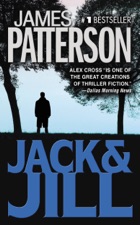 Download for Free
iTunes Price: $7.99

Category:

Fiction & Literature

Updated:

Jan 01, 2003

Print Length:

448 Pages

Language:

English

Seller:

Hachette Digital, Inc.
Little, Brown and Company
Requirements: To view this book, you must have an iOS device with iBooks 1.5 or later and iOS 4.3.3 or later, or a Mac with iBooks 1.0 or later and OS X 10.9 or later.