Four Blind Mice
By James Patterson
Click on "Download Now" button under Icon to download this content for Free
Description
Detective Alex Cross is on his way to resign from the Washington, D.C., Police Force when his partner shows up at his door with a case he can't refuse. One of John Sampson's oldest friends, from their days together in Vietnam, has been arrested for murder. Worse yet, he is subject to the iron hand of the United States Army. The evidence against him is strong enough to send him to the gas chamber.

Sampson is certain his friend has been framed, and Alex's investigation turns up evidence overlooked-or concealed-by the military authorities. Drawing on their years of street training and an almost telepathic mutual trust, Cross and Sampson go deep behind military lines to confront the most terrifying-and deadly-killers they have ever encountered. Behind these three highly skilled killing machines there appears to be an even more threatening controller. Discovering the identity of this lethal genius will prove to be Cross's most terrifying challenge ever.

On his visits home, Alex must confront another, more harrowing mystery: what's the matter with Nana Mama? As he explores the possibility of a new relationship with a woman who offers him new hope, Alex must also confront the fact that his beloved grandmother is only human.
...More
Customer Reviews
Four Blind Mice
First of all this isn't short stories as listed by category. This is one of the early Alex Cross deceptive mystery series.

Patterson's ability to immediately hook you with a prologue and immerse you in the story continues with this book. The plot twists and turns and keeps you guessing. Again, a page turner I could not put down. He can't write Alex Cross novels fast enough for me...waiting for the next in the series due out sometime in November 2010.
Alex Cross Junky/Four Blind Mice
Four Blind Mice kept me wanting more, and was hard to put down. The Alex Cross series has lived up-to and passed my expectations. I'm on my fifth James Patterson novel. I look forward to reading every last one and can't wait to start the next one in line to see how his (Alex) career with the FBI and family changes him personally. Want to see how Damon, Jannie, and lil Alex grow. Nana Mama, John Sampson and his new boss Burns of the FBI affect his future. Suspense and thrills oh my!
Wanda P.
Fairfield, Calif
...More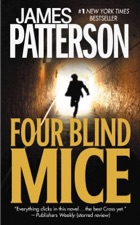 Download for Free
iTunes Price: $7.99

Category:

Short Stories

Updated:

Oct 01, 2003

Print Length:

400 Pages

Language:

English

Seller:

Hachette Digital, Inc.
Grand Central Publishing
Requirements: To view this book, you must have an iOS device with iBooks 1.5 or later and iOS 4.3.3 or later, or a Mac with iBooks 1.0 or later and OS X 10.9 or later.