Just One Look
By Harlan Coben
Click on "Download Now" button under Icon to download this content for Free
Description
An ordinary snapshot causes a mother's world to unravel in #1 New York Times bestselling author Harlan Coben's shocking thriller.

When Grace Lawson picks up a newly developed set of family photographs, there is a picture that doesn't belong-a photo from at least twenty years ago with a man in it who looks strikingly like her husband, Jack. And though Jack denies it's him, he disappears that night, taking the photo with him. Now, to save her family from a fierce, silent killer who will stop at nothing to get the photo, Grace must confront the dark corners of her own tragic past...
...More
Customer Reviews
Wow
This book is riveting and full of suprises. You never see things coming. Thats why i have gave this book a 5 star review i promise you if you were to get this book you will not want to put it down.
😕
I've read Promise Me from Harlan Coben and thoroughly enjoyed the characters and plot, I then went into a Michael Connelly 'Haller Series' reading marathon. After all that I decided to read another Coben.. I want to like it but it's just not capturing anything for me. The characters are a bit too deeply delved into and kind of depressing. But with saying that, it's a mystery, and good one at that.
Vapid
Read this on the basis of some past work. Not worth it. Wandering storyline. Shallow characters.
Phony ending, not well supported by previous facts. Just quite a disappointment.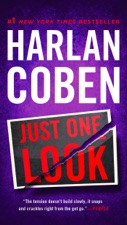 Download for Free
iTunes Price: $4.99

Updated:

Apr 26, 2004

Print Length:

528 Pages

Language:

English

Seller:

Penguin Group (USA) Inc.
Penguin Publishing Group
Requirements: To view this book, you must have an iOS device with iBooks 1.3.1 or later and iOS 4.3.3 or later, or a Mac with iBooks 1.0 or later and OS X 10.9 or later.