KORG iELECTRIBE for iPad
By KORG INC.
Click on "Download Now" button under Icon or Open AppAddict app on iDevice to download this content for Free
Description
Korg's ELECTRIBE·R has been coveted by dance musicians for ten years running. Today, this indispensable instrument has been reborn as a dedicated iPad app – the KORG iELECTRIBE virtual analog beatbox!

With the iELECTRIBE, sound creation is easy, fun and intuitive – just as on a vintage analog synthesizer. Simply choose a part (or sound) and touch the 16-step sequencer to quickly build a groove. This easy-to-use interface combines forces with the iPad's 9.7" multi touch display to offer an intuitive "hardware" feel, sure to inspire and captivate the imagination of any user.

The iELECTRIBE faithfully recreates the historic ELECTRIBE·R's entire sound engine and sequencer capabilities. In addition, it provides advanced Motion Sequencing, eight supercharged effect types, plus 64 new preset patterns that instantly allow the user to create music in a wide variety of dance and electronic music styles. Get started today!

[Specifications]
Sound Engine:
• Analog Synthesizer Modeling; PCM Samples; Virtual Valve Force Tube Modeling

Instrument Voices (Parts):
• 8 Total : 4 percussion synthesizer parts; 4 PCM synthesizer parts

Effect Section:
• Master Effect : Assignable per step/per part
• 8 Effect Types : Short Delay, BPM Sync Delay, Grain Shifter, Reverb, Chorus/Flanger, Filter, Talking Modulator, Decimator

Sequencer Section:
• Patterns : 64 steps maximum per part, Motion Sequencing can memorize all knob motions in a pattern
• Tempo : 20 - 300 BPM (with Tap tempo and Swing function)
• Pattern-set function (iELECTRIBE has no Song function)

Pattern Memory:
• 160 Total : 32 preset patterns x 2 banks; 32 basic patterns x 1 bank; 32 blank patterns x 2 banks

Other:
• Audio export function (Bouncing a pattern, and Real-time recording a performance: 16-bit/44.1 kHz stereo WAV format)
• Publish and share an exported audio file online with the SoundCloud audio platform*

* You will need to register for a SoundCloud account in order to publish data on SoundCloud. A variety of choices are available, ranging from a free account that allows up to two hours of data to be uploaded to a paid account that allows unlimited time. For details, refer to the SoundCloud website: http://soundcloud.com

* When using SoundCloud, you must observe SoundCloud Ltd.'s terms of use, such as the prohibition on uploading songs whose copyright is the property of a third party.

iELECTRIBE is a dedicated iPad app and cannot be used with iPhone and iPod touch.

Follow us on:
● Facebook : http://www.facebook.com/korg.iapps
● Twitter : http://www.twitter.com/korg_iapps
...More
What's new in Version
1.7.1
• Bug fixes and Improvements
...More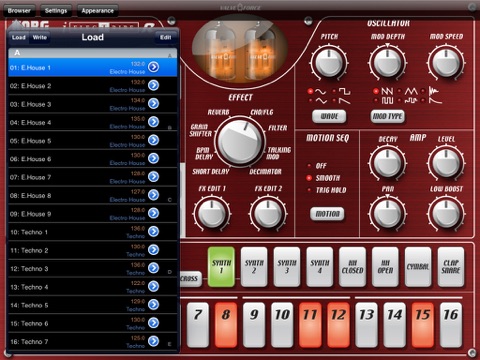 Customer Reviews
Limited, but can be fun, for 50%-off
Pros:

• Generally easy to work with, after a bit of a learning curve. Learning curve should be mostly nonexistent for owners of hardware Elektribe units.

• Fun to tweak

• Useful for creation of drum/noise loops.

Cons:

• Not a universal app. Korg is double-dipping with the iPad and iPhone versions of this software. Yes, the GUI on each device is ideally suited to that device, but there's no reason why they couldn't have done that in a universal app.

• $20 is a bit much for what it does in comparison to what other apps can get you for the same outlay of cash. I bought it on 50%-off sale and would advise anyone else to do the same.

• Lacks IAA transport controls. This is a problem on ALL Korg apps.

• Poor MIDI support.

• No easy data exchange/backup.

• Fiddly controls. A problem on most Korg apps, especially Gadget.
...More
Fun, but more of a toy
I have a hardware emx and this app is pretty similar in workflow. However, the app is mainly a drum machine. I can't imagine syncing this to my hardware for serious. Changing patterns is a bit shady as it will switch on just about any beat. Perhaps there are better pattern change options, but I only use this for fun as a stress reliever. For that, it is perfect. But I would only buy it on sale.
ielectribe once had sample selection.. What happened?
I know ielectribe had sample part selection before they released the gorillaz version.. What happened why did KORG do this? Does anyone out there still have it on an old device? Over the years KORG has shot me in the heart many times. First it was this, then the broken snare on the volca beats. The shotty build quality of the NanoKey Studio, Buggy and missing features in the electribe sampler. KORG has been evil in their business tactics.. I just don't believe KORG really cares anymore..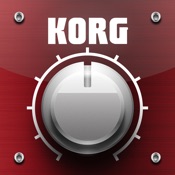 Download for Free
3 Archived versions available
This app is designed for iPad only
iTunes Price: $19.99

Category:

Music

Updated:

Dec 22, 2015

Version:

1.7.1

Size:

48.1 MB

Language:

English, French, German, Japanese, Spanish

Seller:

KORG INC.
© 2010-2015 KORG INC.
Requirements: Requires iOS 8.0 or later. Compatible with iPad.