AmpliTube
By IK Multimedia
Click on "Download Now" button under Icon or Open AppAddict app on iDevice to download this content for Free
Description
***NOW WITH EVEN MORE FREE GEAR MODELS PLUS "FENDER COLLECTION 2" AVAILABLE VIA IN-APP PURCHASE TO BOOST YOUR TONE LIVE, IN THE STUDIO AND ON THE GO.

Want to turn your device into the ultimate mobile guitar and bass tone studio? AmpliTube puts the power in your hands with a massive collection of virtual gear that you can use to practice, play and record with world-class tone anytime and everywhere.

Build your own guitar or bass rig with up to 6 stompbox FX, an amplifier and speaker cabinet w/Mic — you can even drag and drop your stomps to sit before or after your amplifier (4 slots pre and 2 slots post).

Just plug your instrument into your iPhone or iPod touch with one of IK's instrument interfaces (like iRig 2 or iRig HD), and get ready to be blown away.

AmpliTube gives you 17 creative stompbox effects, 8 amazing amps, 10 speaker cabinets and 2 mics, 1 Loop Drummer groove from the Rock pack and 1 active track in the recorder section. You can of course expand this selection via a massive library of over 100 pieces of gear that includes amps and stompboxes from the world's best brands like Fender™, Soldano®, Ampeg®, ENGL®, Orange®, T-Rex® and many more.

Thanks to AmpliTube's Cab Room, you will actually feel like you are in your own professional recording studio. Now mic your cabinets in 3D - from dust cap to speaker edge and by varying distances from the speaker - with up to 2 mics in a beautifully rendered virtual studio environment. There are also 16 new highly sought after studio mic models available via in-app purchase adding even more sonic richness.
Get creative with loops in AmpliTube via its Super Looper, which is available through in-app purchase. It makes it easy to record, play back, adjust levels and play along with up to 4 loops. Looper is controllable via MIDI or iRig BlueBoard.

Need a drummer? Use the built-in Loop Drummer system to jam to killer drum tracks. Use AmpliTube's streamlined built-in 8-track recorder and DAW-style studio (available via in-app purchase) sections to record, edit and tweak and share your compositions via SoundCloud, file sharing or email.

What's more, the acclaimed Fender Collection 2 is now available for AmpliTube iOS via in-app purchase. Based on IK's revolutionary Dynamic Interaction Modeling™ technology, it delivers a whole new level of realism, making it possible to fully replicate the behavior of EVERY component in the circuit all the way down to its quirkiest nuance and character in a non-linear and dynamic way.
With 4 models based on the astounding Fender Custom series plus 3 original vintage models from the 50's / 60's, Fender Collection 2 is the key to boosting your tone both live, in the studio and on the go and lets you play with the iconic amp models that made the history of music.

AmpliTube features:

• Lets you intuitively create guitar & bass rigs with up to 6 stomps, 1 amp and 1 cab with 2 mics
• Over 100 gear models available via in-app purchase
• Includes 17 stomps, 8 amps, 10 cabinets and 2 mics
• "Cab Room" allows 3D placement and miking of cabinets with 2 mics (available via in-app purchase)
• Add more gear via in-app purchase from Fender™, Soldano®, Ampeg®, ENGL®, Orange®, Jimi Hendrix™ collection, T-Rex® and more
• 16 different mics available for purchase
• Included single-track recorder (in-app purchase unlocks up to 8-tracks)
• Studio mode for intuitive DAW-style editing (unlocked via in-app purchase)
• Loop drummer module that plays in sync with the recorder
• Includes speed trainer, metronome and tuner
• Inter-App Audio and AudioBus support (available on iOS 7 and above)
• Project sharing between versions and devices
• Import and play songs as backing tracks from your Music Library or computer
• Export audio via E-mail, SoundCloud or File Sharing
• MIDI controllable
• Low-latency for real-time playing

More info:
www.amplitube.com/ios
Accessory info:
www.ikmultimedia.com/irig

Requires iPhone 4s, iPod touch (5th generation) with iOS 8.0 or later
...More
What's new in Version
4.4.0
- Fender Collection 2 models available via in-app purchase
- New Free Stomp effects included: Swell, Electric Flanger, Crusher, Dcomp, FeedBack, Phazer10
- New Free Amps included: British Copper 30TB, Vintage Metal Lead, 360Bass
- Added rest blocks to the Loop Drummer
- General reliability improvements
...More
Customer Reviews
Good features but...
I have literally stopped using AmpliTube and now exclusively use JamUp Pro. The main reason is due to a hissing in the background that I can't get rid of. The problem is I have contacted customer support about it multiple times, because the hiss is not in any other amp simulator app that I use...only in AmpliTube. I have explained this to them, but the conclusion IK Multimedia keeps arriving at is it is my equipment's fault...even though I don't get hiss in any other app that I use. The noise gate works for the most part, but you can still hear it when you play. I don't have any effect or amp gain cranked...there is no physical reason I can figure why this app makes my guitars hiss. I refuse to make recordings with dirt in the background, so the only reasonable solution for me was to stop using AmpliTube and go to another amp simulator like JamUp Pro that does just about everything AmpliTube does, but without the hiss. I'm hoping some day this gets resolved, because I spent some hard earned money on this not so cheap app. I have talked to other guitarists who have used AmpliTube and they know about the hiss also.
...More
Improved
It's been about a year since I've fired up AmpliTube. Previously, I was annoyed by the pops and weird sounds that came through my headphones so I tended just to use my amp to practice, but it is a) loud, b) in the basement and c) has fewer attached pedal options. This afternoon I pulled out the irig and plugged into my phone. Wow! Lots of improvements have happened. In particular, I am impressed my the much improved sound quality. I'm looking forward to coming back to using AmpliTube for quiet practice after the family goes to bed.
...More
Great amp
This is WAY better than buying a 200 dollar amp that does exactly the same thing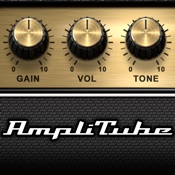 Download for Free
19 Archived versions available
This app is designed for both iPhone and iPad
iTunes Price: $19.99

Category:

Music

Updated:

Apr 13, 2017

Version:

4.4.0

Size:

812 MB

Language:

English, French, Italian, Japanese, Simplified Chinese, Spanish

Seller:

IK Multimedia
©2002-2016 IK Multimedia Production Srl
Requirements: Requires iOS 8.0 or later. Compatible with iPhone, iPad, and iPod touch.
Top in-app purchases
Recorder + Master FX

$14.99

Complete Fender Bundle

$14.99

Compressor

$3.99

Reverb

$3.99

Graphic Equalizer

$3.99

Limiter

$3.99

Parametric Equalizer

$3.99

Metal Distortion

$3.99

Recorder + Studio

$19.99

Slash Complete Bundle

$14.99