AmpliTube for iPad
By IK Multimedia
Click on "Download Now" button under Icon or Open AppAddict app on iDevice to download this content for Free
Description
***NOW WITH EVEN MORE FREE GEAR MODELS PLUS "FENDER COLLECTION 2" AVAILABLE VIA IN-APP PURCHASE TO BOOST YOUR TONE LIVE, IN THE STUDIO AND ON THE GO.

Want to turn your device into the ultimate mobile guitar and bass tone studio? AmpliTube puts the power in your hands with a massive collection of virtual gear that you can use to practice, play and record with world-class tone anytime and everywhere.

Build your own guitar or bass rig with up to 6 stompbox FX, an amplifier and speaker cabinet w/Mic — you can even drag and drop your stomps to sit before or after your amplifier (4 slots pre and 2 slots post).

Just plug your instrument into your iPhone or iPod touch with one of IK's instrument interfaces (like iRig 2 or iRig HD), and get ready to be blown away.

AmpliTube gives you 17 creative stompbox effects, 8 amazing amps, 10 speaker cabinets and 2 mics, 1 Loop Drummer groove from the Rock pack and 1 active track in the recorder section. You can of course expand this selection via a massive library of over 100 pieces of gear that includes amps and stompboxes from the world's best brands like Fender™, Soldano®, Ampeg®, ENGL®, Orange®, T-Rex® and many more.

Thanks to AmpliTube's Cab Room, you will actually feel like you are in your own professional recording studio. Now mic your cabinets in 3D - from dust cap to speaker edge and by varying distances from the speaker - with up to 2 mics in a beautifully rendered virtual studio environment. There are also 16 new highly sought after studio mic models available via in-app purchase adding even more sonic richness.
Get creative with loops in AmpliTube via its Super Looper, which is available through in-app purchase. It makes it easy to record, play back, adjust levels and play along with up to 4 loops. Looper is controllable via MIDI or iRig BlueBoard.

Need a drummer? Use the built-in Loop Drummer system to jam to killer drum tracks. Use AmpliTube's streamlined built-in 8-track recorder and DAW-style studio (available via in-app purchase) sections to record, edit and tweak and share your compositions via SoundCloud, file sharing or email.

What's more, the acclaimed Fender™ Collection 2 is now available for AmpliTube iOS via in-app purchase. Based on IK's revolutionary Dynamic Interaction Modeling™ technology, it delivers a whole new level of realism, making it possible to fully replicate the behavior of EVERY component in the circuit all the way down to its quirkiest nuance and character in a non-linear and dynamic way.
With 4 models based on the astounding Fender Custom series plus 3 original vintage models from the 50's / 60's, Fender™ Collection 2 is the key to boosting your tone both live, in the studio and on the go and lets you play with the iconic amp models that made the history of music.

AmpliTube features:

• Lets you intuitively create guitar & bass rigs with up to 6 stomps, 1 amp and 1 cab with 2 mics
• Over 100 gear models available via in-app purchase
• Includes 17 stomps, 8 amps, 10 cabinets and 2 mics
• "Cab Room" allows 3D placement and miking of cabinets with 2 mics (available via in-app purchase)
• Add more gear via in-app purchase from Fender™, Soldano®, Ampeg®, ENGL®, Orange®, Jimi Hendrix™ collection, T-Rex® and more
• 16 different mics available for purchase
• Included single-track recorder (in-app purchase unlocks up to 8-tracks)
• Studio mode for intuitive DAW-style editing (unlocked via in-app purchase)
• Loop drummer module that plays in sync with the recorder
• Includes speed trainer, metronome and tuner
• Inter-App Audio and AudioBus support (available on iOS 7 and above)
• Project sharing between versions and devices
• Import and play songs as backing tracks from your Music Library or computer
• Export audio via E-mail, SoundCloud or File Sharing
• MIDI controllable
• Low-latency for real-time playing

More info:
www.amplitube.com/ios
Accessory info:
www.ikmultimedia.com/irig

Requires iPhone 4s, iPod touch (5th generation) with iOS 8.0 or later
...More
What's new in Version
4.4.0
- Fender Collection 2 models available via in-app purchase
- New Free Stomp effects included: Swell, Electric Flanger, Crusher, Dcomp, FeedBack, Phazer10
- New Free Amps included: British Copper 30TB, Vintage Metal Lead, 360Bass
- Added rest blocks to the Loop Drummer
- General reliability improvements
...More
Customer Reviews
Great but pricey in the app realm! I personally love it.
Would have given 5 stars but can't get it to import iTunes music library songs for practicing along with. However iTunes and Amplitude work together so you can set up your amp and then switch to iTunes to play songs. Hopefully app update will someday sort out this one glitch. However this should be a 5 Star app and I don't get some of the reviews. This app is one of the best simulators I have heard. If it was the amps and pedals alone it would be great but you get many other features. Yes you have to pay to activate but since when do you get hardware for free? You don't. Any experienced gear head or musician understands that you have to pay to get quality gear. 28 years playing and to have only paid a little over $200 for this rig is amazing. 10 years ago this much versatility would have cost $1000-$1500. Keep the updates coming. Love them. Hopefully you can add some Boss pedals soon.
...More
Frustrating as hell
I am using this product on an iPad 3. My main complaint is with the loop drummer, which hasn't functioned since iOS 8 was installed. I have communicated with the manufacturer and they acknowledge the issues. They have released updates that do not rectify the problems. I have spent a great deal of money on their hardware and software. This product is virtually useless in its present state. I do not recommend purchasing this product until the bugs are fixed. It's taking way too long.

IRig, iLoud, BlueBoard, Slash, Hendrix, Fender, Drum tracks, looper, 8 track daw....what else? Can't even calculate the investment. It does not function. Complete joke. Do not recommend. Spend your money elsewhere. Poor to nonexistent customer service. That being said, when it functioned, it was a useful tool. F to the U.
...More
Paid $40 for the iRig device, $20 more for app
I'm disappointed that the device I thought would be compatible with Garage Band requires this app, and even more disappointed that it's $20 extra. The in app purchases make this app even further frustrating. You'd think that $20 is enough for all the features, but then you dish out even more once you have the app. I wouldn't recommend this device or its app to anyone.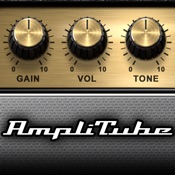 Download for Free
17 Archived versions available
This app is designed for iPad only
iTunes Price: $19.99

Category:

Music

Updated:

Apr 13, 2017

Version:

4.4.0

Size:

1.00 GB

Language:

English, French, Italian, Japanese, Simplified Chinese, Spanish

Seller:

IK Multimedia
©2002-2016 IK Multimedia Production Srl
Requirements: Requires iOS 8.0 or later. Compatible with iPad.
Top in-app purchases
Recorder + Master FX

$14.99

Complete Fender Bundle

$14.99

Compressor

$3.99

Reverb

$3.99

Graphic Equalizer

$3.99

Limiter

$3.99

Parametric Equalizer

$3.99

Recorder + Studio

$19.99

VL Complete Bundle

$9.99

Slash Complete Bundle

$14.99