Robert Ludlum's The Cassandra Compact
By Robert Ludlum & Philip Shelby
Click on "Download Now" button under Icon to download this content for Free
Description
For over thirty years, Robert Ludlum has been acknowledged as the master of international suspense and intrigue. In 2000, Ludlum managed to raise the bar yet again with his widely acclaimed bestsellers The Prometheus Deception and The Hades Factor, the first novel in his exciting Covert-One series. Now Covert-One is back, in a novel that could only have come from the imagination of the world's greatest storyteller.

"What they're going to do, I never would have believed it. It's insanity!" They were the final words spoken by Yuri Danko, an officer in the medical division of Russia's security service, before his body was ripped apart by a spray of assassins' bullets. In possession of Danko's classified papers, Covert-One operative Jon Smith and CIA undercover agent Randi Russell have unearthed a terrifying global conspiracy that threatens to unleash a plague of immeasurable proportions. A Serb terrorist has been dispatched from Russia to spirit hazardous vials of deadly bacteria into the United States. His mission: deliver it to an unknown American government agent-- a shadowy figure whose own motives for acquiring the bioweapon are made all the more unfathomable when both men are found murdered, and the strain is stolen. Now Smith and Russell must track it down, find the madman who possesses it, and stop him before he holds a defenseless world hostage with the power to render the human race extinct.
...More
Customer Reviews
No reviews yet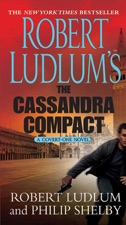 Download for Free
iTunes Price: $9.99

Updated:

Apr 01, 2010

Print Length:

400 Pages

Language:

English

Seller:

Macmillan / Holtzbrinck Publishers, LLC
St. Martin's Press
Requirements: To view this book, you must have an iOS device with iBooks 1.3.1 or later and iOS 4.3.3 or later, or a Mac with iBooks 1.0 or later and OS X 10.9 or later.