Star Trek: Triangle
By Sondra Marshak & Myrna Culbreath
Click on "Download Now" button under Icon to download this content for Free
Description
Kirk's soul...Spock's life
A dark plan has been unleashed in the galaxy, a design so vast, only a collective -- and ruthless -- mindlike the Totality could have conceived it. Now Captain Kirk must battle the seductive force of the Totality's will. It was reasonable that Captian Kirk and Federation Free Agent Sola Than would fall in love. But no reasoning the the universe could have foreseen the tragedy of Spock's own passion for the same woman. Now this unimaginable conflict could cost Captain Kirk his very soul, and bring death to the proud Vulcan. But in the unimaginable lies their only chance, and the freedom of the galaxy depends on the outcome of the...Triangle.
...More
Customer Reviews
I wanted to like it...
I feel this book deserves some respect because it is one of the earlier books in the 'Pocket Book' collection and attempts to explore a very complicated subject. The book is relatively easy to follow. The authors makes some interesting philosophical points that are reminiscent to the 'Borg Collective' in terms of the concept of 'oneness'. 'The Triangle" discusses the story of Job as a philosophical struggle involve making a deal with the devil; however, there are some inaccuracies. For example, 'The Triangle' mentions Job's wife died and that Job knew Satan was involved. These inaccuracies, or at least questionable interpretations of the Bible book of Job, make the reader's ability to connect with Kirk in his struggle with the 'Oneness' difficult.
...More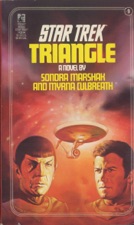 Download for Free
iTunes Price: $7.99

Category:

Sci-Fi & Fantasy

Updated:

Sep 22, 2000

Print Length:

230 Pages

Language:

English

Seller:

Simon and Schuster Digital Sales Inc.
Pocket Books/Star Trek
Requirements: To view this book, you must have an iOS device with iBooks 1.3.1 or later and iOS 4.3.3 or later, or a Mac with iBooks 1.0 or later and OS X 10.9 or later.