Star Trek: Memory Prime
By Garfield Reeves-Stevens & Judith Reeves-Stevens
Click on "Download Now" button under Icon to download this content for Free
Description

Memory Prime
It is the central core of an immense computer library -- an elite network of research planetoids. Here, the Pathfinders -- the only artificial intelligences legally permitted to serve the Federation -- control and sift the overwhelming dataflow from thousands of research vessels across the galaxy...
Now the greatest scientists in the Federation have gathered here for the prestigious Nobel and Z-Magnees prize ceremonies -- unaware that a deadly assassin is stalking one of them. And as Captain Kirk struggles to save his ship from sabotage and his first officer from accusations of murder, he discovers the hidden assassin is far from the deadliest secret lurking on Memory Prime...
...More
Customer Reviews
No reviews yet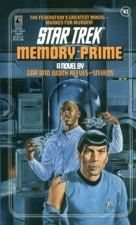 Download for Free
iTunes Price: $5.99

Category:

Sci-Fi & Fantasy

Updated:

Sep 22, 2000

Print Length:

320 Pages

Language:

English

Seller:

Simon and Schuster Digital Sales Inc.
Pocket Books/Star Trek
Requirements: To view this book, you must have an iOS device with iBooks 1.3.1 or later and iOS 4.3.3 or later, or a Mac with iBooks 1.0 or later and OS X 10.9 or later.