UFO on Tape
By Revolutionary Concepts
Click on "Download Now" button under Icon or Open AppAddict app on iDevice to download this content for Free
Description
Featured in the AppStore's prestigious "Essentials" and Indie "All Time Greats" lists of must-have games! What would you do if you were driving along and a real UFO descended from the clouds? Run screaming? Or grab your trusty iPhone and give chase?!

'UFO on Tape' puts you in the hot seat as you speed through the countryside in hot pursuit of visitors from outer space.

• "If you want something fresh and unique download this - pronto! I really can't get enough of it." - IGN (Editors Choice Award and 'Best of' Nominee)
• "We're telling you now..get out and grab UFO on Tape. Totally out of this world!" - TouchArcade
• "Completely unique with an amazing premise built into an exceptionally well built game" - AppAdvice.com
• "May be the most unique experience out there. 4/5 Stars" - 148Apps
• "Downright brilliant execution. There are few games out there that offer this kind of immersion" - SlideToPlay
• "Promises to deliver an experience quite unlike anything else on iTunes" - PocketGamer
• "Engaging and fun to enjoy and definitely worth adding to anyone's collection" - AppSpy.com
• "So cool and unique, you'll consider it 99 cents well-spent" - CNET
• "UFO on Tape is Awesome" - AppTapper.com

How much footage will you get, will it be clear, will you be kidnapped and subjected to scientific experiments? Only time will tell! With photo-realistic graphics (no camera required), the best use of the gyroscope or accelerometer this side of the Vega system, loads of in-game voice dialogue from your hysterical virtual girlfriend, gamecenter scoring, and the kind of elusive 'just one more try' gameplay that keeps you up till the wee hours, 'UFO on Tape' is the ultimate pick up 'n play hi-score chaser!
...More
What's new in Version
1.6
Got an iPhone X? Now you can perfect your UFO filming skills on it's beautiful edge to edge screen so you'll be ready when the aliens attack! The invasion never looked so good!
** Holidays Bonus Gift: FREE for a limited time download GESUNDHEIT! our multi-award-winning former App of the Week. Full game, no ads! Our Holiday gift to you! *Support Indie dev's, leave a nice rating/review! **
...More
Customer Reviews
Time to beat style app
The point is to "film" the UFO for as long as you can. Gyroscopically driven app functions. It's a game people and the ads aren't that bad. Only fun for 20 minutes though. It's free so who cares.

People who complain about free things should have higher taxes or something. I guess we all should start complaining about air and rocks based on their logic. Smell ya later.
Really?
"Will it be clear? Or will you be kidnapped and subjected to scientific experiments? Only time will tell!"

Um, actually, you'll just keep driving through the game, filming an unsteady ufo, wondering when the game will get interesting. No storyline here at all! No choices, nothing you can do but try to keep the ufo in the camera and get a higher score! Very boring and small concepted! Ugh! Sucky game! Time will tell.............. zzzzzz.. what? I lost it? Oh.. that's too bad....
...More
???
I don't really see the point of this game. When you're designing a game, I think that you're supposed to have a clear idea of what you want the game to be. I don't really think the creators of this game had a clear idea of what this game was supporting be about.

Don't waste your time downloading this game. You will delete it immediately.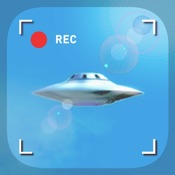 Download for Free
3 Archived versions available
This app is designed for both iPhone and iPad
iTunes Price: Free

Category:

Games

Updated:

Dec 20, 2017

Version:

1.6

Size:

46.9 MB

Language:

English

Seller:

Revolutionary Concepts
© Revolutionary Concepts
Requirements: Requires iOS 8.0 or later. Compatible with iPhone, iPad, and iPod touch.