Big Mean Folder Machine 2
By publicspace.net
Click on "Download Now" button under Icon to download this content for Free
Description
The Big Mean Folder Machine is an easy to use file/folder management utility. It can split files into folder hierarchies or merge them into a single folder. With a familiar assistant-styled interface, The Big Mean Folder Machine is an essential tool for anyone who works with large file collections, including digital photographers, content creation, post-production, system administrators, and other creative professionals.

PERFECT FOR (RE-)ORGANIZING YOUR PHOTO COLLECTION

The Big Mean Folder Machine knows all about the shooting dates and times embedded in your digital JPEG EXIF or RAW picture files. With only a few clicks you can reorganize your entire photo collection into a customized folder hierarchy. Fancy organizing your photos by year and month? Click. Click. Done. Prefer a deeper hierarchy with year, month and date? Click. Click. Done.

WE LOVE YOUR MUSIC TOO

The Big Mean Folder Machine is just as useful for your music collections as it can read id3 tags (Artist, Album, Title, Year, etc.) and use them to split your entire collection into a pristine folder hierarchy of your own design.

CREATE FIXED SIZE BATCH FOLDERS

Anybody who has ever tried to burn a large file collection onto physical media such as DVDs or CDs will appreciate the Big Mean Folder Machine's ability to create batch folders of a particular size, so that you can backup each folder onto a separate data carrier.

MERGE SEVERAL FOLDERS

The Big Mean Folder Machine cannot only split files into folders, but it can also do the reverse, namely merging the files from many folders and folder hierarchies into a single folder. Not only is doing this manually exceedingly tedious, but you also run into real problems when you run into files with the same name in several folders. The Big Mean Folder Machine takes care of these issues with its customizable file name conflict resolution algorithm.

SAFE, FLEXIBLE & INDUSTRIAL STRENGTH

All this would be of little use unless there is a safe, flexible and capable engine behind these pretty buttons.. The Big Mean Folder Machine packs an industrial-strength 64-bit database-backed processing engine that is capable of shifting hundreds of thousands of files and terabytes of data, while taking care of pesky problems such as file name conflicts.

The Big Mean Folder Machine provides you a full (!) preview of the folder hierarchies that it will create before doing anything and by default your files are copied rather than moved to their new locations, leaving you with a perfect copy should things not work out as expected. For the more adventurous file moving is of course also available, saving time and disk space but this is inherently less safe.

WHAT OTHERS ARE SAYING

"We'd like to register a protest under the Trades Description Act. The Big Mean Folder Machine is neither big or mean. In fact, it's really rather small and polite, helping you to organise your disparate files and folders with minimum mess and fuss.", 4 out of 5 mice, Mac World, December 2008

"As others have commented, this App is in many ways the Killer App. With the incredible amount of photos that you can collect in a small amount of time, or other files for that matter, this App is a God send. Let's say you have 1000 photos from vacation you want to separate into Folders of 100 each. Click Click Click - done. This has saved my bacon more times than I can count. Free time is fun time!", Killer Klown Kar on MacUpdate, November 2010

"Awesome. Saved me at least a full day rearranging 7 years of photos from multiple folders into a single structure with exactly the naming and date organization needed to move to a new workflow.", Zaph on MacUpdate, March 2010
...More
What's new in Version
2.32
- modernized code base
- built with Xcode 7 and 10.11 El Capitan SDK
...More
Customer Reviews
Almost too powerful?
Highly advise that you follow the in-app instructions for testing / learning how it works before going wild with your folder / file structures. Insanely powerful once you know what you're doing with it.
Hangs up, quits unexpectedly.
Gosh I wish I could get my money back!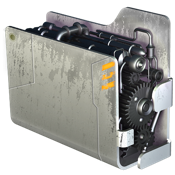 Download for Free
This app is designed for OS X
Mac App Store Price: $14.99

Category:

Utilities (Mac)

Updated:

Nov 18, 2015

Version:

2.32

Size:

5.2 MB

Language:

English

Seller:

publicspace.net
© 2015, Frank Reiff
Requirements: OS X 10.7 or later, 64-bit processor