Find Any File (FAF)
By Thomas Tempelmann
Click on "Download Now" button under Icon to download this content for Free
Description
Unhappy with Spotlight because it does not find files that you know to be there? Use FAF to find every file on your disks, including those usually hidden. By file name, date, size (not by content, though!)

• Recover a file whose name you partially remember?
• See what files got changed in the past 5 minutes?
• Find all the large files on your disk?
• Uninstall software that leaves files in hidden places where Spotlight doesn't look?

Find Any File (FAF) is the perfect tool for these tasks.

You can even search on disks that are not indexed by Spotlight, including server volumes.

Find Any File can find files that Spotlight doesn't, e.g. those inside bundles and packages, and inside system folders that are usually excluded from Spotlight search.

Contrary to Spotlight, it does not use a database but instead searches the data on disk directly. This lets you search for file properties such as name, creation and modification dates, file size, even plain text inside files.

Another useful feature is its hierarchical results view (see screenshots). It lets you view the found items within their respective folders, making it often much easier to browse through 100s of found items.

Finally, it is fast. Not as fast as Spotlight, but it usually only takes a few seconds to locate all searched items on a disk.

•• Note ••

  FAF can not search file content other than plain (unformatted) text - and even that is rather slow, so don't expect this to be a good replacement for Spotlight.

For searching text in Mails, Word and PDF documents, and similar files, Spotlight is still the best tool (whose results can be enhanced with Tembo, also available in the App Store).

•• Here's what users say about FAF ••

  "FAF goes where Spotlight's can't easily reach."

  "As the administrator for about 50 school Macs, I often need to look for some file misplaced by a novice or, while troubleshooting a system, I often need to search for obscure operating system files. Find Any File is in my arsenal of tools when things files or folders go astray."

  "I use it when I want to find a specific kind of file or to see and eliminate or compare the double and redundant files. I surely use it 4-5 times a week."

  "I keep FAF as an icon in the toolbar of every Finder window. When I have to actually find something, I use FAF instead of the Finder."
...More
What's new in Version
1.9.2
Fix: No more OutOfBounds error when clicking past the last preview icon.
Fix: No more occasional freeze-up when quitting FAF.
Fix: The FAF Hotkey app gets removed properly on High Sierra when disabling the Hot Key in FAF's Preferences.
Fix: The menu option Automatically Refresh can now be (un)checked at all times.
Fix: Empty criteria are ignored when creating a name for Save and for the window title.
...More
Customer Reviews
One of the few trusted apps...
...I've been using over several years. Not every day, but particularly after I've uninstalled an application and there still are littered remains throughout Mac OS, some which can cause hipcups (too technical to explain). Newbies need not apply, since spotlite functions well enough for finding normal documents, images, etc. The is a powerful app that can cause newbies trouble if they are just messing around. A great app but caveat emptor.
Absolutely Must Have App
Absolutely love this application. It has proven to be useful so many times especially when I am attempting to completely remove an unwanted application or locate hidden paths or files on my Mac. Highly recommend.
Apple should buy this company
It's faster, better and more precise than Spotlight.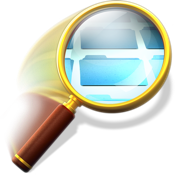 Download for Free
2 Archived versions available
This app is designed for OS X
Mac App Store Price: $7.99

Category:

Utilities (Mac)

Updated:

Dec 05, 2017

Version:

1.9.2

Size:

11.6 MB

Language:

English, Czech, French, German, Italian, Norwegian, Portuguese, Spanish, Swedish

Seller:

Thomas Tempelmann
© 2005 - 2017, Thomas Tempelmann
Requirements: OS X 10.9 or later