Awaken
By Embraceware Software Inc
Click on "Download Now" button under Icon to download this content for Free
Description
Awaken turns your Mac into the ultimate music alarm clock and sleep timer.

ALARMS
• Wake up to your music or built-in sounds
• Supports multiple alarms with sorting and labeling
• Customizable snooze control
• Create one-time alarms, weekly alarms, or target a specific date
• Gradually fade in the music volume and screen brightness
• Launch applications or files at alarm time
• Controllable via Apple Remote and keyboard shortcuts
• Auto-stop alarms after a customizable duration

SLEEP MODE
• Fall asleep to your iTunes music
• Fall asleep to ambient sounds
(Beach, Forest, Ocean, Rainfall and White Noise)
• Gradually fade out the music volume and screen brightness

TIMERS
• Supports multiple timers with sorting and labeling
• Select from over a dozen built-in sounds
• Launch applications or files

FULL SCREEN MODE
• View alarms, sleep mode timer and current time at a distance

TIPS
• Use "Play Music via iTunes" to play music from iCloud
• Click on the date to toggle the next alarm time
• Sleep your display by pressing control + shift + eject

Follow us on Twitter (@Embraceware) for updates and development news: http://twitter.com/Embraceware

If you have ANY problems or feedback please email [email protected]
...More
What's new in Version
6.0.2
- Resolves compatibility issues with iTunes 12.
...More
Customer Reviews
Broke
I am a teacher and wanted to use this app for letting me and my students know when the bell was about to ring. The app advertises the fact that it can set multiple alarms throughout the day and how easy it is to connect to Itunes. The app works for 1 alarm but almost always crashes after that alarm. I also still have not been able to connect the app to iTunes. There are zero instructions from the app to do this nor a setup phase. If you are like me and you have multiple alarms set throughout the day for classes then the app loses almost all useability unless you close it out and open it again for the next alarm. I strongly encoursge you to look for other alarm apps, especially if you're looking to utilize multiple alarms.
...More
How the mighty have fallen
This used to be a very solid alarm app, although there were always a few edge case bugs. Now, on Sierra, it reliably crashes at the first alarm set for the day. Look elsewhere—and let me know if you find a good alarm app. I'm in the market.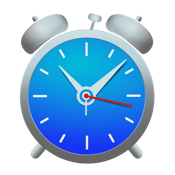 Download for Free
1 Archived versions available
This app is designed for OS X
Mac App Store Price: $9.99

Category:

Productivity (Mac)

Updated:

May 27, 2016

Version:

6.0.2

Size:

18.2 MB

Language:

English, French, German, Japanese, Simplified Chinese

Seller:

Embraceware Software Inc
© 2016 Embraceware Software Inc
Requirements: OS X 10.8 or later