How to Cook Everything
By Culinate, Inc.
Click on "Download Now" button under Icon or Open AppAddict app on iDevice to download this content for Free
Description
This first-of-its-kind app of the bestselling cookbook—How to Cook Everything® from New York Times columnist Mark Bittman—has 2,000 recipes, 400 how-to illustrations, and a host of features that appeal to cooks on the go.

This app is optimized uniquely for both the iPad and the iPhone, making the most of the size, shape, and capabilities of each. (Some features are specific to the iPad only.)

In the app you'll find:

• The full content of the multiple-award-winning How to Cook Everything®: all 2,000 recipes and variations.

• Bittman's no-nonsense cooking guidance: how-to illustrations; equipment, technique, and ingredient information; and meal-planning ideas.

• Easy-to-use and flexible search capabilities, including enhanced filters and the ability to browse recipes and reference information.

• Dedicated layouts for portrait and horizontal views, so the information and recipes are easy to follow—from any angle.

• Inspiring photos of weekly featured recipes (iPad only).

• Well-organized and email-friendly shopping lists that make it easy to buy ingredients—and whatever other groceries you need at home.

• The ability to bookmark particular recipe steps and jump with ease among recipes (iPad only).

• The ability to convert temperatures and quantities to metric.

• Handy built-in timers, placed throughout the recipe steps.

• A How-To section that provides convenient access to hundreds of illustrated tutorials on a broad range of topics (iPad only).

• A notes tab on each recipe that makes it easy to add your own recipe notes (iPad only).

• Select quotes from the book with voice-overs by Mark Bittman (iPad only).

• A constant-on button to prevent the screen from dimming while you cook (iPad only).

• The ability to print recipes and shopping lists and to add recipes to calendars.

• The ability to email up to 10 recipes a month to yourself or to friends.

• Cooking inspiration: Bittman's Picks, Featured Recipes, Menues, and Favorites, which provide quick access to selected recipes.

• Feed your friends: Integration with Facebook and Twitter allows you to share what you're cooking with your social network!

• Owners of the new iPad: this one's for you. We've updated the app to include a full set of retina display graphics and images to take full advantage of your high-resolution screen.

All recipe and reference content is embedded in this app, which means that you can use it even if you don't have a network connection. The How to Cook Everything app is the perfect complement to the book, an invaluable resource and guide.

• • •

"The bells-and-whistles of this app are what make it a must-buy, from grocery lists you can email to how-to illustrations. Bittman also makes it nearly impossible to mess up a dish—each recipe step has a built in timer so there's less chance you'll forget how long your osso bucco has been cooking."

   — Bon Appetit

• • •

Love this app? Check out its companion apps: How to Cook Everything Vegetarian and Cooking Basics.
...More
What's new in Version
1.10.3
This version corrects an issue that could cause the app to crash when started on iOS 9 systems.
...More
Customer Reviews
It's OK
I really like this app, but the same 3 recipes have been featured for several months now, if not the last year or so. The last update was done in 2014. Really hate to think I spent money on this, and they dropped the ball and quit supporting the app. Start putting new recipes in, I wasted money on this app for, what, like 10 recipes. Guess once you get people's money, you could care less after that. Just got a new recipe notification today! Changed my review to five stars. Thank You!
My Go To Recipe Guide
I became a fan of Mark Bittman watching him on the Today show over the years. I am a cook and I love to travel. I recently spent almost 3 years traveling in Asia and would use this app to help me cook food I didn't know or how to cook or stuff I would normally cook in an oven but usually there wasn't an oven available.
I got this app years ago when it was free though so I don't mind any lack of updates.
I love this app!
My go to cooking resource for all the basics. It truly is. If you want to know how long and at what temperature to bake a sweet potato, how to cook chicken, how to make pancakes, whatever it is. It's always with you and always very practical. Don't know what I would do without it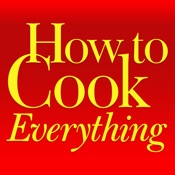 Download for Free
10 Archived versions available
This app is designed for both iPhone and iPad
iTunes Price: $9.99

Category:

Food & Drink

Updated:

Nov 09, 2017

Version:

1.10.3

Size:

63.9 MB

Language:

English

Seller:

Culinate, Inc.
© 2010-2017 Culinate, Inc.
Requirements: Requires iOS 9.0 or later. Compatible with iPhone, iPad, and iPod touch.