Family Ties
By Danielle Steel
Click on "Download Now" button under Icon to download this content for Free
Description
From Manhattan to Paris and all the way to Tehran, Danielle Steel weaves a powerfully compelling story that reminds us how challenging and unpredictable life can be—and how the bonds of family hold us together.
 
FAMILY TIES 
 
Annie Ferguson was a bright young Manhattan architect with a limitless future—until a single phone call changed the course of her life forever. Overnight, she became the mother to her sister's three orphaned children, keeping a promise she never regretted making, even if it meant putting her own life indefinitely on hold. 

Now, at forty-two, still happily single with a satisfying career and a family that means everything to her, Annie is suddenly facing an empty nest. With her nephew and nieces now grown and confronting challenges of their own, she must navigate a parent's difficult passage between helping and letting go. The eldest, twenty-eight-year-old Liz, an overworked editor in a high-powered job at Vogue, has never allowed any man to come close enough to hurt her. Ted, at twenty-four a serious law student, is captivated by a much older woman with children, who is leading him much further than he wants to go. And the impulsive youngest, twenty-one-year old Katie, is an art student about to make a choice that will lead her to a world she is in no way prepared for but determined to embrace.

Then, when least expected, a chance encounter changes Annie's life again in the most surprising direction of all. . . . 
...More
Customer Reviews
Family Ties
This was one I couldn't put down! I really enjoyed it.
Family Ties
This book started out great. Lots of things happening and then it slowed down to a crawl and I was getting bored with it. Finally it began to come back to life and the rest was very good.

The last book I read was One Day At a Time which I would give
an A Plus and this book - Family Ties I would give a B
Amazing!!!
It has being the most amazing love, family story I have ever read. Love it!!!!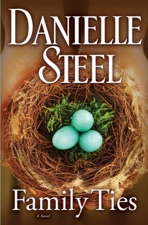 Download for Free
iTunes Price: $7.99

Category:

Fiction & Literature

Updated:

Jun 22, 2010

Print Length:

368 Pages

Language:

English

Seller:

Penguin Random House LLC
Random House Publishing Group
Requirements: To view this book, you must have an iOS device with iBooks 1.3.1 or later and iOS 4.3.3 or later, or a Mac with iBooks 1.0 or later and OS X 10.9 or later.