Accident
By Danielle Steel
Click on "Download Now" button under Icon to download this content for Free
Description
Accident is a powerful and ultimately triumphant novel of lives shattered and changed by one devastating moment.

Although frequent business meetings keep her husband, Brad, away from home, Page Clarke feels blessed with her happy family and comfortable marriage. They have a house near San Francisco and she keeps busy looking after their seven-year-old son, Andy, and their teenage daughter, Allyson.

Allyson, at fifteen, is trying her wings and one weekend, instead of an evening with her friend Chloe, the girls lie and go out with two older high school boys. But a Saturday night that was supposed to be fun ends in tragedy when their car collides head-on with another.

At the hospital, Page finds Chloe's divorced father, Trygve, and, unable to locate Brad, she leans on his strength throughout the the long hours of tormenting questions. Will Allyson live? Will any of them? Were the teenagers drinking? Using drugs? Who was at fault? And where is her husband? Without Brad by her side Page feels her life start to come apart as she is forced to confront the fact that Allyson may not live, and if she does, she may never be the same again.

In an inspiring novel that explores how many people are affected by one tragic accident and how they survive it, Danielle Steel brings us close to the characters whose lives are as familiar as our own... and who live, as we all do, in a world where everything can change in a single moment.

From the Paperback edition.
...More
Customer Reviews
Very touching
The author wrote with such feeling that I felt I was able to connect with the characters & feel both there pain & happiness. I believe this story expresses every parents worse nightmare, something happening to their child & being helpless.

I was disappointed that there are quite a few spelling errors/typos. Other then that, this story was a great read.
The accident
Good story line and certainly holds your attention. Was thrilled with the ending but I'm glad I read the book.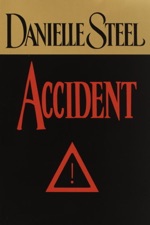 Download for Free
iTunes Price: $7.99

Category:

Fiction & Literature

Updated:

Feb 01, 1994

Print Length:

448 Pages

Language:

English

Seller:

Penguin Random House LLC
Random House Publishing Group
Requirements: To view this book, you must have an iOS device with iBooks 1.3.1 or later and iOS 4.3.3 or later, or a Mac with iBooks 1.0 or later and OS X 10.9 or later.