Legacy
By Danielle Steel
Click on "Download Now" button under Icon to download this content for Free
Description
BONUS: This edition contains an excerpt from Danielle Steel's Hotel Vendome.

This compelling, centuries-spanning novel brilliantly interweaves the lives of two women—a writer working in the heart of modern academia and a daring young Sioux Indian on an incredible journey in the eighteenth century. The result is an unforgettable story of courage in the face of the unknown.
 
LEGACY
 
At the age of thirty-eight, Brigitte Nicholson has a job she likes, a man she loves, and a book she's writing that she will finish—someday. Someday is Brigitte's watchword. Someday she and Ted will clarify their relationship. Someday she will stop playing it so safe. Then, on a snowy day in Boston, Brigitte's life is jolted and everything she has counted on changes. As she struggles to plot a new course, Brigitte agrees to help her mother on a family genealogy project and makes a stunning discovery that reaches back to the French aristocracy. How did Brigitte's mysterious ancestor Wachiwi, a Dakota Sioux, travel from the Great Plains to the French court of Louis XVI and Marie Antoinette? How did she come to marry into Brigitte's family? What is the truth behind the tantalizing clues in the fragmented, centuries-old records? Traveling from South Dakota to Paris, following the threads of Wachiwi's life, Brigitte finds herself in the forefront of her own story. With a powerful family legacy coming to life around her, someday is no longer in the future. Instead, in Danielle Steel's mesmerizing novel, someday is now.
...More
Customer Reviews
Legacy
Charming...romantic...sweet! I can envision the movie version and hope it comes to be! Unknown to Danielle Steel...I am her biggest fan.....have read every novel written by her....and, without giving away any of MY secrets, we have much in common. If I had a "bucket list", it would have to begin with a wish for a conversation with her!

During the 1930s, my parents lived with the Sioux on a reservation In the Dakotas. My father, a missionary at the time, was dedicated to spreading the word of God to the tribe. Sadly, in time, he chose a different path....left the ministry, his family, and damaged more souls than he helped to save. Oh, what stories I could tell!

Perhaps I have been inspired.....just like Bridgette! Hmmmmmm!

Thank you, friend!
...More
Horrible book
This book ostensibly has the pretense of a good novel. I am a fan of Steel, especially when she was married to her love of her life, John Traina. Her books were awesome and fresh. Since the divorce , not much has come from her antique type writer. The. Books are sterile and lack originality. I wish she would take her
Talent and make sequels or bring back characters in a different story . As readers, we are seduced by sayings such as, excellent , or must read. I wish reviewer would be honest with themselves.
Steel has a template for her writing, never pushing herself in her
Writing . She should just slow down, pop out a book a year instead of this craziness. I felt this story needed drama and it
Lacked being interesting. I believe this is one of the worst books she has produce just to fill deadlines and her empty life next to Honor thyself and Five days in Paris. Read granny dan or I'd you like history check out crossings. Epics, try thuston house,skip this boring book!
...More
Mrs.
Great book. Fun to read and exciting story of a women's family history. Together with present day romance drama and the family past history love story. I Loved reading it.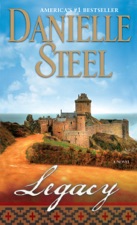 Download for Free
iTunes Price: $7.99

Category:

Fiction & Literature

Updated:

Sep 28, 2010

Print Length:

400 Pages

Language:

English

Seller:

Penguin Random House LLC
Random House Publishing Group
Requirements: To view this book, you must have an iOS device with iBooks 1.3.1 or later and iOS 4.3.3 or later, or a Mac with iBooks 1.0 or later and OS X 10.9 or later.