44 Charles Street
By Danielle Steel
Click on "Download Now" button under Icon to download this content for Free
Description
BONUS: This edition contains an excerpt from Danielle Steel's Betrayal.

A magical transformation takes place in Danielle Steel's luminous novel: Strangers become roommates, roommates become friends, and friends become a family in a turn-of-the-century house in Manhattan's West Village.
 
The plumbing was prone to leaks, the furniture rescued from garage sales. And every square inch was being devotedly restored to its original splendor—even as a relationship fell to pieces. Now Francesca Thayer, newly separated from her boyfriend, is suddenly the sole mortgage payer on her Greenwich Village townhouse. The struggling art gallery owner does the math and then the unimaginable. She puts out an advertisement for boarders, and soon her home becomes a whole new world.

First comes Eileen, a fresh, pretty L.A. transplant, now a New York City schoolteacher. Then there's Chris, a young father fighting for custody of his seven-year-old son. The final tenant is Marya, a celebrated cookbook author hoping to start a new chapter in life after the death of her husband. Over the course of one amazing, unforgettable, ultimately life-changing year, Francesca discovers that her accidental tenants have become the most important people in her life. The house at 44 Charles Street fills with laughter, heartbreak, and hope—and in the hands of master storyteller Danielle Steel, it's a place those who visit will never want to leave.
...More
Customer Reviews
I'm getting tired of boy meets girl, etc.
This novel is the same old story but 60 books later. I think either I have matured in reading or Danielle Steel makes a lot of money replicating the same story line. This book was so predictable and
boring , I stopped at page 226. The best Steel book was Granny Dan where the story was totally not what you expected. Don't buy this unless you're a die hard fan. Otherwise, it's about a woman who meets a man, falls in love and they live happily ever after, oh don't forget the two murders they bonded over.
...More
CHANGES
All of her books are great. She makes you feel like a part of all her characters and what they are experiencing. If you are broken or injured at the start she is sure to mend you and make you whole again.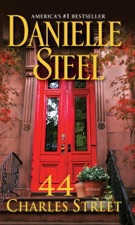 Download for Free
iTunes Price: $7.99

Category:

Fiction & Literature

Updated:

Apr 05, 2011

Print Length:

400 Pages

Language:

English

Seller:

Penguin Random House LLC
Random House Publishing Group
Requirements: To view this book, you must have an iOS device with iBooks 1.3.1 or later and iOS 4.3.3 or later, or a Mac with iBooks 1.0 or later and OS X 10.9 or later.