Flexiglass
By Nulana LTD
Click on "Download Now" button under Icon to download this content for Free
Description
Among the countless number of applications that just arrange windows on your desktop Flexiglass actually offers a convenient way to move, resize, maximize, and close windows on a Mac with a mouse, trackpad and keyboard.

* Move & Resize
Usually, when you want to move or resize a window on a Mac you are limited by its title bar or lower-right corner. Flexiglass enables more comfortable window management. To quickly move or resize the active window just place the mouse cursor over it, press a definable key and start dragging windows with the left or right mouse button respectively.

* Quick Layouts
If you used to work with more than one window at a time Flexiglass will help you to arrange windows on your screen any way you like. Just move a window to the right, left or top, and it will automatically resize and move itself to fill the half, quarter of the screen, or full screen.

* Quick Layout Shortcuts
User-defined shortcuts allow you to move windows to halves or quarters of the screen and back to original size. You can place a window in the center of the screen or move it from one monitor to another.

* Double-click to Zoom
Double-clicking on window title bar is the easiest way to expand it to full screen.

* Real Zoom & Real Close
You can change the default behavior of standard Mac OS X buttons. Right-clicking on the green Zoom button will maximize a window to full screen. Right-clicking on Close window button will quit the whole application.

* Multitouch Trackpad and Mouse
You can use finger gestures on your macbook trackpad or Magic trackpad to move and resize.
Flexiglass can save different settings for a trackpad and a mouse and automatically change them when you plug or unplug devices.
...More
What's new in Version
1.6.2
- Startup issues fixed
...More
Customer Reviews
Rock star app!
If you do any type of writing, reading, or work with any type of documents or applications where you need to compare multiple versions simultaneously and need a way to quickly resize the application window or document windows — Flexiglass is your app. Apple has JUST created the side-by-side view in El Capitan — boring — because you don't always view side-by-side. Flexiglass has been doing split views for years and with a few key strokes you ALSO get TOP & BOTTOM split as well as a way to QUARTER split the apps/windwos into the four corners of your screen display. This is such a rock star app — I love it. You'll love it too!
...More
Buggy & Expensive
I bought Flexiglass to allow for a very convenient way to move and resize windows. It implements the functionality very poorly. First, moving doesn't work on all types of windows, e.g., System Preferences. Second, resizing Terminal and similar text-based applications also selects text while resizing. How hard is it to do one thing and then do it right?!

After getting in touch with the support, the only thing they mentioned is "we hope to fix it in the future". Very unsatsifying. This is by no means a $10 app, given the buggy implementation.
...More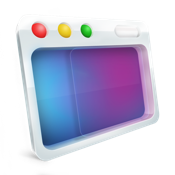 Download for Free
1 Archived versions available
This app is designed for OS X
Mac App Store Price: $9.99

Category:

Utilities (Mac)

Updated:

Nov 20, 2015

Version:

1.6.2

Size:

2.1 MB

Language:

English, French, German, Italian, Japanese, Russian, Simplified Chinese, Spanish

Seller:

Nulana LTD
© Nulana LTD
Requirements: OS X 10.6.6 or later