MenuTab Pro for Facebook
By FIPLAB Ltd
Click on "Download Now" button under Icon to download this content for Free
Description
THE ULTIMATE FACEBOOK APP FOR YOUR MAC - PRO VERSION

This is the Pro version of the best Mac app for Facebook with these amazing extra features: Color-coded menubar alerts, Desktop mode with chat, Popup notifications, Stealth mode, Full screen support and much more!

MenuTab Pro for Facebook is an incredibly slick and gorgeous app for quickly accessing your Facebook account directly from your Mac's menu bar. It is one of the most popular and actively used apps on the entire Mac App Store, with over 2 million happy users!

Why is MenuTab Pro the best app of its kind? Good question, allow us to explain just how fully loaded this app is:

⁕ Instant access to Facebook via your Mac's menu bar:
Quickly take a peek at your Facebook account at the click of a button and also via its customisable hot key (ctrl + F).

⁕ Awesome color-coded notifications with audio alerts:
We've made it really simple to distinguish between new notifications via our menu bar icon. A gold icon means you have a new friend request; red is a new wall post/like/poke; and green is a new inbox message. Finally, a flashing blue icon indicates a new chat message from a friend!

⁕ Choose between desktop & mobile modes:
Want a no-nonsense clean cut view of your Facebook account? Then the mobile mode is your best bet. For those that want the full Facebook experience, just toggle over to the desktop mode and enjoy.

⁕ Popup notifications support:
Our customers asked for it and we delivered. Each of the notification types explained above now have their own corresponding notification popup. You do not need Growl installed for these popup notifications to work. However, if you do have Growl installed, you'll be able to customise the popup notification bubbles via the Growl app itself. If you are running Mountain Lion, then you get notification center alerts!

⁕ Facebook Chat support:
Facebook chat with all the trimmings, just like it is in your web browser, but with the added benefit of notifications :)

⁕ Ninja stealth mode:
Use the nifty opacity control slider to determine the transparency of your MenuTab Pro app window. Stealth mode lets you sneakily check on your Facebook news feed etc without it catching the eyes of others :)

⁕ Resizable window:
Just as it states, resize the tab/window to your liking!

⁕ Slick touch gestures support:
One of our most loved features, feel right at home with touch gestures support for back/forward and scrolling.

⁕ Fullscreen support for OS X Lion users:
The full Facebook experience with no distractions!

⁕ Accessibility options:
Customise the font size, use the right click menu options such as text to speech and make life easier with standard hotkeys like cmd + R to refresh. Ah, it's the small things that make us happy :)

⁕ Regular free updates:
MenuTab Pro is one of the most actively maintained and updated apps on the store and we aim to keep it that way! Please spread the word and keep sending us your feedback!

Get MenuTab Pro whilst it is on sale! We're sure you'll love the app and join our rapidly growing Facebook fan page of more than 85,000 people: http://www.facebook.com/FaceTab

Legal Note:

- MenuTab is a 3rd party application for Facebook and is in no way endorsed or affiliated with Facebook Inc

- Facebook and the Facebook Logo are trademarks of Facebook Inc
...More
What's new in Version
6.9
- Speed Optimizations
- Bug fixes
...More
Customer Reviews
7/10 pretty good
The chat bar is way too oversized and disruptive from seeing content specially since Facebook interface requires you to scroll to see feed. UX/UI could be greatly improved if the chat bar is a lot smaller, maybe be open to the idea of putting in an advanced option of making the bar transparent to some degree?
So easy and time saving
Love this app for my mac - makes checking facebook so easy and fast without interupting what i am working on at the time. Its so unobtrusive and efficient, i really appreciate the people who creted it :)
New update, new name, new price
The program works well but the company (FIPLAB Ltd) updates it and then packages it as a new App under a new name which has to be purchased separately, again. First it was MenuTab Pro for Facebook, then Go for Facebook, and now it's got some newly named version that it's sending me messages asking me to purchase...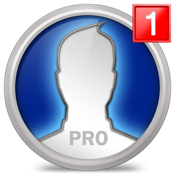 Download for Free
2 Archived versions available
This app is designed for OS X
Mac App Store Price: $4.49

Category:

Social Networking (Mac)

Updated:

09 August 2016

Version:

6.9

Size:

5.5 MB

Language:

English

Seller:

FIPLAB Ltd
© 2016 FIPLAB Ltd
Requirements: OS X 10.7 or later, 64-bit processor