Fahrenheit 451
By Ray Bradbury
Click on "Download Now" button under Icon to download this content for Free
Description
Ray Bradbury's internationally acclaimed novel Fahrenheit 451 is a masterwork of twentieth-century literature set in a bleak, dystopian future.

Ray Bradbury's internationally acclaimed novel Fahrenheit 451 is a masterwork of twentieth-century literature set in a bleak, dystopian future.

Guy Montag is a fireman. In his world, where television rules and literature is on the brink of extinction, firemen start fires rather than put them out. His job is to destroy the most illegal of commodities, the printed book, along with the houses in which they are hidden.

Montag never questions the destruction and ruin his actions produce, returning each day to his bland life and wife, Mildred, who spends all day with her television "family." But then he meets an eccentric young neighbor, Clarisse, who introduces him to a past where people didn't live in fear and to a present where one sees the world through the ideas in books instead of the mindless chatter of television.

When Mildred attempts suicide and Clarisse suddenly disappears, Montag begins to question everything he has ever known. He starts hiding books in his home, and when his pilfering is discovered, the fireman has to run for his life.
...More
Customer Reviews
Fahrenheit 451
Anyone who enjoys reading a book has to pay just homage to this story by reading and saving this book for future readers to appreciate.

The story is compelling with a narrative that will hold every readers interest.
Outstanding & very relevant storyline but.....
Sprinkled throughout this book are typos. A capital "F" used in place of "I'm" or "I've" or "/" used in several places for ending ". For 10 bucks AND for such an important work, I would have expected higher QA/QC! This is way I give it only 2 stars: to draw you attention to the poor quality of the electronic version of this book!! For all the news about the availability of the book in electronic form, you'd think someone would have exercised higher quality control.

Having said that, the storyline is wonderfully timed for our world today and if you've already enjoyed this book a long time ago, rereading it again with the world as it exists could easily send shivers down the spine with how accurately the author described the future. Most poignantly, he foresaw the Internet: information highway, as opposed to a knowledge highway.
...More
Fm confused by the typos
I might expect to see OCR typos in a free, public-domain ebook; but it's inexcusable when paying US$10 for one from a well-known publisher like Simon & Schuster. There were many that served to interrupt the narrative, and thus, break the spell of the book. The oft repeated Fm instead of I'm was one of the most glaring.

You're making money; this is your industry. Please, hire a proofreader. It's one of the things that's supposed to separate you from the minor leagues.

With apps at least you can get an update; how about here? If not; I'm sure I'll think twice before buying another book published by Simon & Schuster.
...More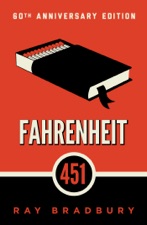 Download for Free
iTunes Price: $11.99

Category:

Classics

Updated:

Nov 29, 2011

Print Length:

208 Pages

Language:

English

Seller:

Simon and Schuster Digital Sales Inc.
Simon & Schuster
Requirements: To view this book, you must have an iOS device with iBooks 1.3.1 or later and iOS 4.3.3 or later, or a Mac with iBooks 1.0 or later and OS X 10.9 or later.