ZoomNotes- Notetake, Sketch, PDF, Present
By Deliverance Software Ltd
Click on "Download Now" button under Icon or Open AppAddict app on iDevice to download this content for Free
Description
ZoomNotes is the most comprehensive visual note-taking app with unlimited zoom. Make handwritten notes and sketches on virtual paper, near-infinite WhiteBoards , PDF files, images and MS Word, Excel and PowerPoint documents (via GoogleDrive).

ZoomNotes is compatible with any capacitive stylus pen and also with the top electronic pens on the market including the fabulous Apple Pencil.

ZoomNotesX for Mac now also available.

Features include:

MULTIPLE PEN TYPES
There are 8 pen types to choose from including gel, nib, pencil and watercolour each with unlimited line thicknesses.

PALM PROTECTION
Rest your hand on the screen whilst you write.

MAGNIFICATION WINDOW
Write into a zoomed in view whilst still viewing the zoomed out view. With auto-advance for both left to right and right to left cursive writing.

SUB-PAGES
This unique feature allows you to use 'pages within pages'. This allows you to use sticky-notes and enables the creation of hierarchical visual files. You can also insert whole pdf files as sub-pages, or import pages from other ZoomNotes documents into a sub-page.

BOOKMARKS
Bookmarks allow you save views in your documents, and then return to them at a later date. There are animated playback facilities to allow you to present with or to create videos from your document.

CALENDAR EVENTS
Add events linked to your documents, possibly with alarms. The URL in the event links back to the document in ZoomNotes.

UNLIMITED ZOOM, INFINITE CANVAS
Zoom in and out without arbitrary limits including rotated views.

WRITE OVER PDF FILES
Import and write over PDFs, Microsoft Office files Word, Excel and PowerPoint (via GoogleDrive).

UNLIMITED PAPER SIZES AND STYLES
Make your page as small or as large as you like. Choose any type of paper with our configurable paper types.

UNLIMITED COLOURS
Now controlled with our new 'Colour Manager'. Edit your colours using RGB, HSV and the new 'colour mixer'.

FULLY EDITABLE WITH GUIDE LINES
In ZoomNotes, you can select, scale, rotate, shift and flip (mirror) objects. Cut, copy and paste are also available, including between documents, pages and other apps.

SHAPES AND ARROWS
Regular shapes and arrows (ideal for visual mapping); they can be drawn with the polygon tool or roughly drawn by hand and automatically converted into the exact geometric shape.

SYMBOL LIBRARY
Fully configurable library of reusable shapes and images.

IMAGES AND IMAGE EDITING
Insert images (photos) in your documents at any size and scale. Crop, mask, re-sample, edit transparency, scan-correct and deform images. Insert images and videos from camera or photo library.

TYPED TEXT
Enter typed text via keyboard; with a wide range of fonts and font sizes, font colours, fills and borders. Text can be entered at all zoom scales and can be selected and moved, scaled and rotated.

RECORD AND PLAYBACK SOUNDS
Including import and export of caf files. You can also insert a sound recording on the page to which it relates. Now linked to drawing.

SHARE DOCUMENTS
Share documents as PDF files, images, videos or ZoomNotes documents (via email, iTunes, clipboard, Dropbox, Facebook, Twitter and Evernote, Airdrop and Open in.

USE FOR PRESENTATIONS
ZoomNotes is VGA compatible for use with projectors, monitors and AirPlay. The 'Bookmarks' feature is an ideal presentation tool allowing you to navigate through a document. Check out the animated ink feature too.

ELECTRONIC STYLUS SUPPORT
Pogo Connect, Hex3 JaJa and Adonit Jot Touch and Script. Wacom Fineline and Intuos 1 & 2. Also Active Stylus Lynktec Apex, DotTec DotPen, Creole iPen2, Apple Pencil


PERFECT FOR STUDENTS
ZoomNotes is available for volume purchasing for educational institutions (check with your Apple rep for details).

There are lots more details including videos or the app in action at www.zoom-notes.com.

Please help us - if you like ZoomNotes please could you leave a short review in the app store. Thank you.

We respond to every email sent to [email protected]
...More
What's new in Version
7.5.6
Support for Microsoft OneDrive for Business
Auto-backup to OneDrive
Other bug fixes and optimisations

If you are enjoying ZoomNotes, please could you take the time to leave us a review, thanks.
...More
Customer Reviews
No reviews yet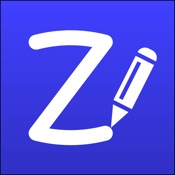 Download for Free
17 Archived versions available
This app is designed for both iPhone and iPad
iTunes Price: $7.99

Category:

Productivity

Updated:

Aug 18, 2017

Version:

7.5.6

Size:

103 MB

Language:

English, French, German, Japanese, Portuguese, Simplified Chinese, Spanish

Seller:

Deliverance Software Ltd
© 2017 Deliverance Software Ltd
Requirements: Requires iOS 8.0 or later. Compatible with iPhone, iPad, and iPod touch.