PhotoSweeper
By Gwinno Software, Inc.
Click on "Download Now" button under Icon to download this content for Free
Description
*** The brand-new version with a bunch of unique features and improvements ***

PhotoSweeper is a fast, precise & super efficient tool to eliminate similar or duplicate photos even in huge photo collections. It works with photos from Apple Photos, iPhoto, Aperture, PhaseOne Capture One and Adobe Lightroom libraries as well as photos from your hard drives and external storages.

"Swift, easy to use, thorough, analyzes specific libraries, can search according to various criteria, offers choices in photo handling" TheNextWeb
"PhotoSweeper packs a powerful punch in de-cluttering any size collection. 9/10" Mac.AppStorm
"PhotoSweeper is a simple and efficient utility for organizing photos. 4.5/5" Macworld
"The interface is a breeze to use. 9/10" MacNews
"I do like this app, it works really well and under the hood is written to utilize the abilities of your Mac." MacTricksAndTips

PhotoSweeper will help you if:

• You take a series of shots of the same scene trying to get the perfect one.
• You edit photos with software like Photoshop, Pixelmator etc., and make backups just in case.
• You have photos scattered on external hard drives and local disks, in Apple Photos, iPhoto, Aperture or Lightroom libraries.
• You have a mess in your photo collection or just want to free disk space by removing junk photos.

Features

• Easy search of photos
Just drag and drop folders from your Mac to allow PhotoSweeper to find all photos inside. Add more photos from your Photos, iPhoto, Aperture, Capture One or Lightroom library via the Media Browser window.

• Flexible comparison settings
Powerful multi-settings to easily find duplicates, similar photos, series of shots. The app finds duplicate photos, even those edited in external programs such Photoshop, regardless of image size or format.

• "Side to Side" comparison
Find duplicates between two groups of photos while ignoring those inside each group. It allow you to compare the contents of two folders with each other or find similar photos to a single image.

• High speed and quality
PhotoSweeper was developed as a tool for extremely fast comparison of a huge number of photos. Cutting-edge technologies and unique algorithms make searching duplicates incredibly fast and gives excellent comparison results.

• Efficiency
You can regroup the results without re-comparing photos by changing matching level with a slider. Using caches makes the next comparison much faster.

• Marking duplicates automatically
Mark photos you want to get rid of manually, or use the "Auto Mark" feature to mark duplicates automatically based on the list of rules you can adjust to your needs in the Preferences.

• Comfortable viewing results
PhotoSweeper provides 3 modes for reviewing results: "One by One", "Face-to-Face" - one or two large photos with an opportunity to mark a photo with just a click, "All in One" - all groups of duplicates in one list.

• Great photo browsing
PhotoSweeper also serves as an up-to-date photo browser with a built-in search of photos by metadata, Quick Look preview, the "Info" panel with a detailed photo description, including histogram and image metadata (EXIF, IPTC etc.).

A comprehensive user manual is available on our site: http://overmacs.com/
...More
What's new in Version
3.2.1
+ Added compatibility with Lightroom Classic.
+ Made PhotoSweeper even more awesome by fixing issues reported by our customers.

We would like to thank all users who participated in development and improvement of PhotoSweeper.
...More
Customer Reviews
Wow! Best clean up tool for photo libraries I've ever come across
This tool does a great job of finding duplicates, not just exact duplicates, but photos that have been rotated, resized, or are even just very similar. It also has a great set of default rules for figuring out which image to keep automatically, which can save hours. But what most impressed me about this app, is how fast it is! I have two very large libraries of photos, about 45K in iCloud Photo Library, and another 60K or so in Lightroom. Any operation that involves scanning so many photos usually can bring either of those apps to a crawl, sometimes waiting days for an operation to complete (even when the entire library is on SSD). But PhotoSweeper just rips through those thousands of files so fast, it's unreal. I think Apple and Adobe could maybe learn a few things from this software, I was totally not expecting this kind of performance from a third party app.
...More
Really works!
I have a rather large iPhoto library of ~30k pictures, and almost two thousand of them were duplicates. I found them with this software in two passes. On the first, I used "exact match" and it found the "real" duplicates. I spot checked which ones it marked for deletion, and it was never wrong.

In the next pass, I had it search for close matches. This one was more labor intensive - I manually checked 1400 pairs of images, and picked the best one between the two shown using the thoughtfully implemented keyboard shortcuts (read the manual!). This took a few hours, but as a result, my library is a bit less cluttered and more enjoyable to view on slideshow.

Totally worth it!
...More
Good at finding duplicates, but issues w/Apple Photos
I was able to find the duplicates using photos within folders and move the duplicates to the trash or other photos. However, when I tried to use the delete feature for Apple Photos the program said it would move the photos into a trash folder on Apple Photos. It didn't move any of the photos as they're still in my library. Please fix! Or else this is a completely useless app for me.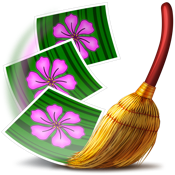 Download for Free
13 Archived versions available
This app is designed for OS X
Mac App Store Price: $9.99

Category:

Photography (Mac)

Updated:

Dec 19, 2017

Version:

3.2.1

Size:

22.8 MB

Language:

English

Seller:

Gwinno Software, Inc.
© 2011-2018 Overmacs Team
Requirements: OS X 10.10 or later, 64-bit processor