MagicalPad: Notes, Mind Maps, Outlines and Tasks - All in one
By MagicalPad
Click on "Download Now" button under Icon or Open AppAddict app on iDevice to download this content for Free
Description
***** 50% OFF *****
Digital Notebook, Mind Mapping, Outliner, Visual Notes, Visual Task Manager. All in one page in one App. Visually manage your notes, ideas, mind maps, outlines, checklist and tasks for school, personal and business needs.
BRAINSTORM. PLAN. CREATE. ORGANIZE. GET THINGS DONE.
All kinds of information within one page - pictures, web links, documents, attachments, lists, tasks, notes, emails, phones and more.

- AWARDS ------------------------
PC Magazine - "25 Best Small Business Apps" | CNet - "Intuitive no matter your pursuit" | 148apps.com - "Essential iPad app" | Featured on the App Store's Get Productive short list.

***** GET MAGICALPAD FOR MAC TODAY, seamlessly sync your content and work on the big screen with tons of shortcuts and mouse tricks. *****

Five key functions that make MagicalPad unique notes productivity app.

1. VISUAL NOTES. FULL-FEATURED NOTE-TAKING & AUTHORING
Freeform notes - Place textboxes, outlines mind maps, photos, and drawings anywhere on the page. Brainstorm for an essay, write class or meeting notes, or make lists. Merge and split outlines and easily drag/drop ideas anywhere. Double-tap to create textboxes anywhere then drag them to outlines and mindmaps to structure, connect and prioritize your ideas. Intuitive themes and styles with full style and theme management tools.

2. ADVANCED MIND-MAPPING
Advanced mindmapping tools that allow you more freedom in brainstorming and creative note taking. Place unlimited mind-maps and outlines anywhere on the same page and convert freely from mindmap to outline and vice versa, or have a hybrid mindmap of topics and outlines on the same map. Simply drag any information from anywhere to anywhere.

3. POWERFUL OUTLINER
Powerful outliner capabilities that allow you to structure your ideas and move them around the page. You can merge and split outlines, lists, mind map branches, attach images, drawings, files and more. You can easily drag/drop to prioritize and vote for your best idea. Full control over level-based themes, item styles and formatting to better visualize y our content the way you want.

4. VISUAL TASK MANAGEMENT
Visual task manager is a powerful task management engine that sits within outlines and mind maps enabling you to visually manage your tasks like a dashboard. You can quickly add icons, tags, set due dates, reminders, priority and add attachments to topics, tasks and notes. Drag and drop tasks between buckets, check them off and set dates and reminders.

5. DEDICATED TASK-VIEW
Yes, just like your favorite task management app. You can track your tasks in a very focused manner. Focus on a specific date, context, tag, notebook or page. Freely edit and manage tasks and switch between page view to task view at any time.

THIS IS WHERE MAGIC COMES FROM...
While these functions are powerful on their own, the real magic comes from having them all connected in front of you on the same app on the same page. No need for different apps.

* Tons of gestures and shortcuts * Content transfer is via dropbox import and export. Automatic sync using dropbox.

- HIGHLIGHTED FEATURES ------------------------
Go to http://www.magicalpad.com/features for full features list.

- TYPICAL USES ------------------------
•Note taking
•Meetings
•Brainstorming
•Class and project notes
•Mind mapping
•Outlining
•GTD
•Tasks & to dos
•Project planning
•Goal setting
•Research
•Dashboarding


- SUPPORT & FEEDBACK ------------------------
[email protected] or visit www.magicalpad.com/support
...More
What's new in Version
3.4.7
- iOS 9 support
- small bug fixes
...More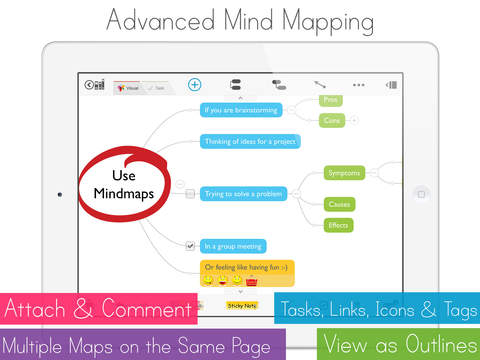 Customer Reviews
Really useful and easy to use
I use this app daily to keep track of ideas and thoughts. I can then come back to the saved information and pick up right where I left off and know everything is right where I left it visually.

I do agree with some of the comments above, however it does slow down when you get a large map going, but there are ways to break up the mind map into smaller portion to make it work quickly again.

Also, with anything new, there is always a learning curve. Stick to it and you will see how powerful this app can be.
...More
Brilliant app with NO SUPPORT for iPad Pro or macOS Sierra!
After years of enjoyment, I now have no access to any documents from my iPad Pro or from Mac OS Sierra .... hundreds of hours of work that are only available on an old iPad. This is an elegant, well designed, power tool with easy access to endless capabilities BUT it has had no input from developers since October 2015 even though it has been reviewed 1,593 times as of today and has gathered a respectable 4 star rating (I would gladly give it 6 stars). But hey, buy at your own risk! Are the developers going to tell us anything about the future of this app? Or should I and other users migrate to inferior applications from bigger, more stable, developers?
...More
Very Creative App
This app will grow on you, it has done exactly that for me. It needs some tweaking on it's formatting. It's a bit difficult at times to get things the way I want them. It could do a lot better in it's exporting to other apps like Word or Outline or OneNote. The app is literally a lot of fun!
Download for Free
12 Archived versions available
This app is designed for iPad only
iTunes Price: $5.99

Category:

Productivity

Updated:

Oct 14, 2015

Version:

3.4.7

Size:

53.9 MB

Language:

English

Seller:

MagicalPad
Copyright © 2015 MagicalPad, LLC. All rights reserved.
Requirements: Requires iOS 7.0 or later. Compatible with iPad.