CSR Racing
By NaturalMotion
Click on "Download Now" button under Icon or Open AppAddict app on iDevice to download this content for Free
Description
*** The best-selling drag racing series - over 130 million downloads ***

5/5 "This is an epic game, the graphics are stupendously brilliant and some absolutely world class cars"

5/5 "Genius. It's fun, simple and super addictive. A straight ten on the Richter scale."

This is CSR Racing. The ultimate drag race in the city streets, featuring over 100 licensed cars, stunning graphics, addictive gameplay and intense online player vs. player competition.

Play a quick race in a spare minute, or strap yourself in for a grand tour to the top of the leaderboards.

RACE OVER 95 LICENSED CARS from the worlds most prestigious car manufacturers including McLaren, Bugatti, Aston Martin, Hennessey and Koenigsegg

COMPETE IN MULTI-PLAYER - Race online against the best CSR players to win special new cars and top the global leaderboard!

WITH WORLD TOUR - Compete Tier 5 and compete against crews from across the globe! Can you beat them and make it to The International?

UPGRADE your engine, fit stickier tires, and strip out weight to cut every tenth from your quarter mile time.

CUSTOMISE your cars and boost your race winnings with cool custom paint, plates and decals.

--------------------------------------

* Make sure you play online to gain access to the latest content and features, and to ensure that your profile is backed up online.

* PLEASE NOTE! CSR Racing is free to play, but it contains items that can be purchased for real money. You can toggle these purchases on/off in the "Restrictions" menu on your device.

* CSR Racing's stunning graphics look best on iPhone 6. Requires iOS 6.0 or later.

Meet other players and find out more about CSR:

* Facebook: http://www.facebook.com/CSRRacingGame
* Twitter: @CSRRacing (http://twitter.com/CSRRacing)
* Instagram: http://instagram.com/CSRRacingGame
* Web: http://nmgam.es/crexwl


MORE GREAT NATURALMOTION GAMES - CSR Classics, Clumsy Ninja, Backbreaker, Backbreaker 2, Jenga, Icebreaker Hockey and My Horse. Find them on the app store now!

Terms of Service: https://www.zynga.com/legal/terms-of-service
Privacy Policy: https://www.zynga.com/privacy/policy
...More
What's new in Version
4.0.1
- Complete your PRO GT3 car collection
- Compete in Seasons to win the awesome Jaguar XJ220 and Lamborghini Murciélago SV
- Race the Subaru BRZ in its own Event for an exclusive decal
- Fixes for a number of minor issues
...More
Customer Reviews
Great game really like it
I really think it's a great game but I have two suggestions that could be put in an update. The first one would be why not combine all three CSR Racing games together as one. Give us the classic cars and the cars from CSR one and give more options to purchase cars using money won in the game! Also I think more people would like the game if there wasn't a wait time for everything. we already have to wait on parts so why not take the wait time for gas away and just let us play? It's a real drag to have to get so far then have to either purchase gas or wait for it in order to keep playing!
...More
Best racing game ever!!!
I have played Real Racing 3. But,later in the game there's always a glitch that happens when your about to brake for a turn or you want to complete an event but you can't because you don't have enough money for a car that you need in order to complete an event!! But, with this game all that you have to do is shift at the right time and upgrade the best part of the car and you will win. The game shows you how to shift and as far as upgrading goes look at the cars weak points in the stats and strengthen them. You should do just fine!
...More
Perfect racing game.
Plenty of cars to choose from, and plenty of levels. Don't listen to other people who say you need to spend money to progress into the game. You seriously don't. You actually have to earn your way through the game. You just need to use the right cars and spend the time doing easy races to earn money and upgrade. I've played this game since it first came out, beat all five tiers and the world tour mode, and even play multiplayer. Haven't spent a dime. Love this game and it's so addicting.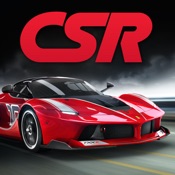 Download for Free
17 Archived versions available
This app is designed for both iPhone and iPad
iTunes Price: Free

Category:

Games

Updated:

Oct 31, 2016

Version:

4.0.1

Size:

525 MB

Language:

English, French, German, Italian, Japanese, Korean, Portuguese, Russian, Simplified Chinese, Spanish

Seller:

NaturalMotion
© (2012-2017) NaturalMotion Games Ltd
Requirements: Requires iOS 8.0 or later. Compatible with iPhone, iPad, and iPod touch.
Top in-app purchases
HIGH ROLLER

$4.99

A FEW CHIPS

$2.99

EXECUTIVE CASE

$9.99

Super Nitrous

$2.99

VIP VAULT

$19.99

Head Start

$2.99

POCKET MONEY

$2.99

ALLOWANCE

$4.99

SALARY

$9.99

Race Team

$4.99