Tropico 3: Gold Edition
By Feral Interactive Ltd
Click on "Download Now" button under Icon to download this content for Free
Description
Get in touch with your inner dictator!

Before you buy, expand this description to check the system requirements below.

Command the Caribbean nation of Tropico in this delicious combination of strategic city builder and humorous political simulator. As an all-powerful "Presidente" with a resource-rich paradise in the palm of your hand, it's your choice to rule with a velvet glove or an iron fist.

Tropico 3: Gold Edition gives you control over everything from your island's infrastructure to its economy and diplomatic relations with competing superpowers. Balance the noisy demands of Tropico's hard-to-please political factions with those of your offshore bankers in this tongue-in-cheek recreation of the Cold War in a hot climate.

Key Features:

• Have it your way! Run Tropico as a tourist mecca, an economic miracle, a police state or all three!

• Enjoy both the epic challenge of the 15-mission Campaign Mode and the intoxicating freedom of Sandbox Mode.

• When you're the corrupt dictator of strategically important island, stuff happens! Wield your influence over every aspect of island life to prepare for everything from natural disasters to nuclear war.

• Help the people see things your way by "recounting" elections, "calming" rebels and issuing "creative" edicts, such as Burn Books, Bribe Factions and Print Money.

• Play as your favourite dictator! Pick from a rich list including Che Guevara, Evita Peron and of course, Fidel. Or create your very own strongman by shaping their character, background and beliefs.

• Create a cult of personality around El Presidente, help compose his silver-tongued speeches, manipulate the media and build monuments in his honor.

• Enjoy "Absolute Power", the expansion pack included in Tropico 3: Gold Edition which offers a completely new 10-mission campaign.

• And always remember - power corrupts, but absolute power totally rocks.


Important information regarding Tropico 3: Gold Edition:

• If you require assistance, please contact our support team at [email protected]

• You can find out more about the game on the Tropico 3: Gold Edition mini-site at feralinteractive.com/tropico3

• Minimum System Requirements: Processor: 2.0 GHz, RAM: 2GB, Graphics: 256MB, Free Space: 7GB.

• The following graphics cards are not supported: ATI X1xxx series, NVIDIA 7xxx series and Intel GMA series.

• The following cards require you to have 4GB of System RAM: NVIDIA 9400, NVIDIA 320M, Intel HD 3000.


Copyright © 2009-2012 Kalypso Media GmbH. All rights reserved. Published by Kalypso Media GmbH. Tropico is a registered trade mark of Take-Two Interactive Software, Inc. used under license by Kalypso Media GmbH. Mac and the Mac logo are trademarks of Apple Inc. registered in the U.S. and/or other countries. Feral and the Feral logo are trademarks of Feral Interactive Ltd. All other logos, copyrights and trademarks are property of their respective owners. All rights reserved.
...More
What's new in Version
1.0.1
• Improves support for GT650M and HD4000 graphics cards.
• Improves stability on islands with large populations.
• Fixes a crash that occurs when continuing to play on an island after level objectives are complete.
...More
Customer Reviews
MORE than worth your money!
At first I thought this would be one of those cheap $10 games which are very outdated and barely have any gameplay value, and that it would just be a ripoff of something like the Age of Empires series or Sims. However, after getting into it, it's something completely different!

I never realised you'd be allowed such in-depth customisable and realistic control over your nation, especially with the realistic political aspects which you have to balance out (between the US, USSR, etc.). I'm loving the campaign missions so far, and the most entertaining is listening to Juanito's radio voice! It is, from my experience, completely unique and well worth the money, especially since it's on a discount (or I think it is). I recommend it highly.

However, I'm prevented from giving it a perfect 5 star rating because I'm on a 2011 Macbook Air, and with all the game's setting set to the complete lowest, it BARELY runs (e.g. the anti-aliasing set to off makes everything seem blurry and you'd think you had something wrong with your eyes…, and there's sometimes lag when you pan the screen, especially with effects like the smoke from the power plant or when it rains, etc.). But that's just on my Air, if you've a decent machine like a Macbook Pro or better, enjoy the awesome graphics when you set it to the highest.
...More
Fantastic Game - Needs DL Content
This game is by far one of the best building games I have ever played. My ONLY complaint, aside from the occasional crash that happens when deleting things, is to PLEASE PLEASE PLEASE make it easier to download content made by the users. Beyond the scenario and hard Sandbox mode, the game is essentially over. And for me, I would absolutely LOVE to create new content, and also try the challenges for others. At this time, I have yet to find any available for download. If you know of where we can dowload the challenges, please post it here!

Again, this is well worth the money, even if you only get the original content, but new content or new challenges (Even if I had to pay for them) would be a nice addition.
...More
So glad I bought it!
I was a bit hesitant at first, because I wasn't sure if it would be worth it, but I am so glad I bought this game! The graphics are amazing and I am playing on my Macbook! (just regular old macbook, not air or pro). It runs very well and it is an extremely fun game! I was just playing and this game is so great that when I reached December 1963, the radio came on and told me that John F. Kennedy had been shot! I just think this game is great. I wonder what other newflashes will pop up!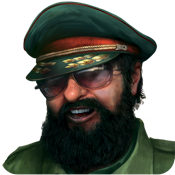 Download for Free
This app is designed for OS X
Mac App Store Price: $13.99

Category:

Games (Mac)

Updated:

Sep 25, 2012

Version:

1.0.1

Size:

4.14 GB

Language:

English, French, German, Italian, Spanish

Seller:

Feral Interactive Ltd
Copyright © 2009-2012 Kalypso Media GmbH. All rights reserved. Developed for and published on the Mac by Feral Interactive Ltd.
Requirements: OS X 10.6.8 or later