The Flight Tracker Pro
By International Airport Flight Track Technologies
Click on "Download Now" button under Icon or Open AppAddict app on iDevice to download this content for Free
Description
The Flight Tracker is the go-to app for managing and tracking your flights. It contains in depth information about all available flights and airlines; arrivals, departures, terminal & gates, delays, and much more. The Flight Tracker is the most convenient flight app you will find on the App Store....Your ultimate flight tracking tool.

FEATURES
• Track any flight in the world
• Detailed Departure and Arrival information
• Terminal and Gate information updated in real-time
• Automatically synchronizes with your TripIt account
• Layover information is automatically displayed
• Extended Weather Forecast per Airport (up to 10 days!)
• Flights and settings automatically can be synchronized in the iCloud
• Save and share your flight information via e-mail, text message, Facebook, and Twitter

--------------------------
DETAILED FEATURES LIST
--------------------------
FLIGHTS
• Track any flight in the world
• Simple, intuitive flight search
• Detailed Departure and Arrival information
• Terminal and Gate information updated in real-time
• Detailed Aircraft information & Seat Maps
• Automatically synchronizes with your TripIt account
• Plan your flights in Trips
• Layover information is automatically displayed

ALERTS BY PUSH NOTIFICATION FOR
• Scheduled/Actual Departure or Arrival Time changes
• Gate and Terminal changes
• Flight Status changes
• You can also schedule Departure/Arrival reminders (don't forget to pick up your friend!)

AIRPORTS
• Find any airport worldwide
• Flight Board of all departures/arrivals per airport
• Easy airport delay info
• Map of all Flights to and from an airport
• Terminal Maps for major airports
• Extended Weather Forecast per Airport (up to 10 days!)

AIRLINES
• Find any airline worldwide
• Detailed airline info
• Flight Board and Map of all flights per airline

MAPS
• Zoom-able Maps with live flight track info and weather service
• World Clock integration
• Offline viewing features enabled for use in airplanes

TRIPS
Flights can be organized in Trips which shows all your flights

LAYOVER INFORMATION
The Flight Tracker automatically calculates and displays layover times

TRIP-IT IMPROVEMENTS
It is possible to be synced with Trip-It automatically (flights will be imported automatically)

SHARING
• Sync your flights between your devices using iCloud
• Save and share your flight information via e-mail, text message, Facebook, and Twitter
• Sync with your Calendar
• Save personal notes, label your flights or store flight information of any flight you wish

-- WE LOVE FEEDBACK! --
As always, we appreciate your feedback.
Please keep sharing your experience to [email protected]
Do you love our app? Please rate and review us in the App Store!

-- ENJOY YOUR TRIP --
...More
What's new in Version
3.2.10
• We fixed the bug preventing notification reminders from being sent to your device
• New Feature! Check the current rainfall or severe weather like hurricanes on the map's radar layer. Get the Premium Membership to access this new feature... and more!
• Check out our new App Preview!
...More
Customer Reviews
Great app, but sometimes too many flight updates
Great and useful app for tracking flights. This gives updates when the flight arrival time changes. This is great for flight delays, but becomes annoying when the flight arrival changes by as little as one minute. On some flights, I have gotten several notices for minor changes where the sum total is less than 10 minutes.
Keeps me up to date
Love this app
I never forget to pick up my wife from the airport
She travels 5 to 8 times a month and not on a fixed schedule
I do not like for her to drive to Atlanta on her own so I take and Meet her upon arrival
This app has never let me down including any updates to the flights
Do not waste your money on this app
After the makeover a year or so back it no longer syncs with icloud and cannot sync to calendar anymore either. The iPad version is working perfectly though, so I am just hoping they are not doing the same makeover on that version as well. An app that used to be good is now worthless for me.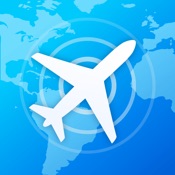 Download for Free
16 Archived versions available
This app is designed for both iPhone and iPad
iTunes Price: $5.99

Category:

Travel

Updated:

Dec 04, 2017

Version:

3.2.10

Size:

97.0 MB

Language:

English, Dutch, French, German, Italian, Japanese, Korean, Portuguese, Russian, Simplified Chinese, Spanish, Traditional Chinese

Seller:

International Airport Flight Track Technologies
© Impala Studios
Requirements: Requires iOS 8.0 or later. Compatible with iPhone, iPad, and iPod touch.