Tweetglass for Twitter (formerly Quip)
By Tapbots
Click on "Download Now" button under Icon or Open AppAddict app on iDevice to download this content for Free
Description
Spend less time managing Twitter, and more time enjoying it. Tweetglass is a Twitter app for iPad with a special focus on automatically streamlining and condensing your timeline, especially when it comes to conversations.

Take a look at Tweetglass (formerly named Quip) in action at: http://www.glasshouseapps.com/tweetglass

Imagine trying to follow a conversation in real life if the group of people involved all spoke backwards while others nearby kept interrupting with random comments. It sounds crazy but that's what it can often be like when scanning a normal Twitter timeline.

With Tweetglass, replies show their context right where they are. You don't have to chase conversations down or drill down away from the timeline because Tweetglass groups them by default and puts them the right way around for you.

Other unique features of Tweetglass include three timeline filters:
1. Conversations: tweets that are part of a conversation
2. Retweets: tweets that have been retweeted 5+, 10+, 20+ or 50+ times
3. Images: tweets that have images included

Tweetglass also has a really handy timeline overview that allows you to quickly scan through your tweets and find & fill gaps in your timeline with just a tap.

When replies appear on their own instead being grouped into a conversation (for example in Search results, other user's timelines or when the parent tweet is not yet in the database), connecting conversations is as easy as tapping the conversation button or holding your finger down on the large avatar. The same avatar-hold gesture can be used to load all available replies to normal tweets.

We hope you enjoy using Tweetglass as much as we've enjoyed developing it. :)

---------------

"In just a few days of testing, [Tweetglass] has revealed a new side of twitter to me"
- 4 stars, 148Apps

"[Tweetglass] is no ordinary Twitter app."
- iMore

"The conversation view in [Tweetglass] is second to none."
- 4.5 stars, t3kd.com

"Make Sense of Your Twitter Feed"
- Gizmodo App of the Day
...More
What's new in Version
1.1.2
- Twitter API compatibility
- Fixed a bug related to Favoriting tweets
...More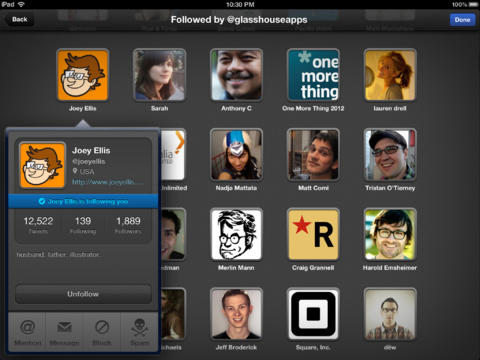 Customer Reviews
Not working.
Bought because I love all the developers other apps, and this one peaked my interest. I spent 3 bucks and it doesn't work, says connection error,

Please fix, will update review when it's fixed.
"Connection error: network down?
No, it's not. Good idea and interface, if it would work as it's supposed to.
half half
buttun settings can't press him :(
and this program is slower :(
speed up plz
Download for Free
3 Archived versions available
This app is designed for iPad only
iTunes Price: $2.99

Category:

Social Networking

Updated:

Jun 13, 2013

Version:

1.1.2

Size:

22.8 MB

Language:

English, French, Simplified Chinese, Traditional Chinese

Seller:

Tapbots
© 2013 Tapbots LLC
Requirements: Requires iOS 5.0 or later. Compatible with iPad.