Design Is a Job
By Mike Monteiro
Click on "Download Now" button under Icon to download this content for Free
Description
Co-founder of Mule Design and raconteur Mike Monteiro wants to help you do your job better. From contracts to selling design, from working with clients to working with each other, this brief book is packed with knowledge you can't afford not to know.

"This book will teach you how to be part of a service industry without becoming a servant." —ERIK SPIEKERMANN

"Running a design shop is hard. When someone actually gets one off the ground, they've got something rare and valuable, so they keep their strategies and practices secret. What makes this book so unique is that it plainly and honestly describes how a successful design shop actually works." —JOHN GRUBER, Daring Fireball

"'Design Is a Job' is so good it made me want to cry. I am absolutely using it as a textbook in my class this year." —KAREN MCGRANE, Managing Partner, Bond Art + Science
...More
Customer Reviews
Highly recommended
Highly recommended reading for anyone that works in client services. As a front-end web dev who works with designers I still found the advice in this book incredibly applicable to my role.

This book isn't about life hacks, tips, or tricks. It's about being an incredible communicator, taking responsibility, and being an adult.

I am thinking of buying this for everyone in my office.
@MikeFTW
What a great book on managing, designing and playing well with others.. This book is awesomesauce!
Bam!
After reading this book, I feel like I've just had a very valuable business lunch with the author. Maybe better, because I am forced to listen instead of doing my share of the talking. This book is not about the design process, but rather the business of design. If you are working in the design industry, you've undoubtedly realized that communication with clients far out weighs how good any actual design output might be. This book provides solid advice and encouragement - along with a swift boot to the rear - on getting your communication skills on par with your design skills. And, it does so with surprising humor and very frank, no BS language. Definitely recommended.
...More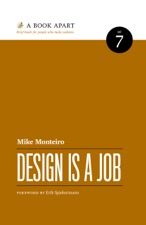 Download for Free
iTunes Price: $10.99

Category:

Internet

Updated:

Apr 10, 2012

Print Length:

135 Pages

Language:

English

Seller:

A Book Apart LLC
A Book Apart
Requirements: To view this book, you must have an iOS device with iBooks 1.5 or later and iOS 4.3.3 or later, or a Mac with iBooks 1.0 or later and OS X 10.9 or later.