Peep
By PeacockMedia
Click on "Download Now" button under Icon to download this content for Free
Description
Weird characters showing in your file?? There are many different text encoding systems (mapping characters to the numbers within a file) and a file doesn't necessarily carry information about the encoding that was used when it was saved. This can lead to frustrating problems when the file is opened.

- Examine any file in detail, view / save in any text encoding
- Displays each byte as data (decimal or hex notation) or as text
- Can take text directly from the clipboard
- Try different text encodings to find the correct one or the best fit
- Attempts to filter the text from a proprietary format
- Saves a text file using the same or another encoding

Peep looks like a traditional 'hex editor' application and functions as such; it allows you to examine the contents of a file and even edit byte-by-byte.

But Peep was designed as a file viewing and text encoding utility - is useful when programming, when experiencing text encoding problems or when you need to extract information from a file that you can't open otherwise.
...More
What's new in Version
2.3.2
Adds ability to edit a file byte-by-bite
Adds column to right of main table showing data in a slightly more readable way, making it easier to see what's happening as you try different encodings
Many small fixes and improvements
...More
Customer Reviews
No reviews yet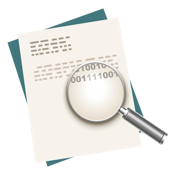 Download for Free
This app is designed for OS X
Mac App Store Price: $1.99

Category:

Developer tools (Mac)

Updated:

Jan 11, 2018

Version:

2.3.2

Size:

2.0 MB

Language:

English

Seller:

PeacockMedia
Copyright © 2018 peacockmedia. All rights reserved.
Requirements: OS X 10.6.6 or later, 64-bit processor