Mythology
By Edith Hamilton and Others
Click on "Download Now" button under Icon to download this content for Free
Description
The world-renowned classic that has enthralled and delighted millions of readers with its timeless tales of gods and heroes.

Edith Hamilton's mythology succeeds like no other book in bringing to life for the modern reader the Greek, Roman and Norse myths that are the keystone of Western culture-the stories of gods and heroes that have inspired human creativity from antiquity to the present.

We follow the drama of the Trojan War and the wanderings of Odysseus. We hear the tales of Jason and the Golden Fleece, Cupid and Psyche, and mighty King Midas. We discover the origins of the names of the constellations. And we recognize reference points for countless works for art, literature and culture inquiry-from Freud's Oedipus complex to Wagner's Ring Cycle of operas to Eugene O'Neill's Mourning Becomes Electra

Both a reference text for scholars of all ages and a book to simply enjoy, Mythology is a classic not to be missed.
...More
Customer Reviews
Mythology
Extraordinarily interesting and a fantastic piece of history!
A Must Have!
This book was a required reading for my freshman English class. I have fallen in love with this book and Mythology because of it. Edit h Hamilton touches on Roman, Greek, and even Norwegian mythology in this book. I recommend this as a reference book, leisure read, and a companion. This book helps to understand the references in a vast number of classic literary works by Shakespeare. Chaucer, Poe, etc. I have two hard copies and an Ebook for all my iDevices!
Mythology
I read this book when I was 10, then again at 16, and finally, when I was in graduate school. It enriched my general education and gave me insight into the great works of 20th century authors, artists, and scientists long before my peers. My teachers and professors thought I was smarter and better read than I was because of my knowledge of the stories and characters written about by Hamilton. What began as an interest in what seemed like scary fairy tales for adults, became knowledge that enriched every facet of my life. This book is basic information for understanding human nature, and relationships. The characters had influence on our culture and the thinking of many people who have shaped our understanding of our world- from Freud to Einstein.
...More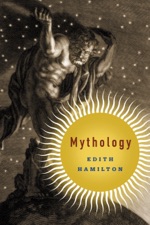 Download for Free
iTunes Price: $9.99

Category:

Fiction & Literature

Updated:

Jun 25, 2012

Print Length:

512 Pages

Language:

English

Seller:

Hachette Digital, Inc.
Little, Brown and Company
Requirements: To view this book, you must have an iOS device with iBooks 1.3.1 or later and iOS 4.3.3 or later, or a Mac with iBooks 1.0 or later and OS X 10.9 or later.