Live Wallpaper
By SquidMelon
Click on "Download Now" button under Icon to download this content for Free
Description
#1 Top Paid 43 countries including Brazil, Mexico, Russia, Hong Kong, Singapore, China, South Korea, Netherlands, Sweden, Denmark
#2 Top Paid 45 countries including U.S.A., Argentina, Japan, Australia, New Zealand, Germany, Italy, Norway, Spain, Switzerland
#3 Top Paid 8 countries including United Kingdom, France, Canada

#Featured in RedmondPie, AppShopper, CultOfMac, iLounge, Netted, Geeknizer, TechCorner, MacGenius

Live Wallpaper is a beautiful wallpaper with live clock and weather forecast. It provides a variety of themes which has different layouts and unique styles.

Currently, we have 24 official themes + many custom themes from our community. We are adding themes continuously (All themes are free). Each theme has the unique layout, clock, text, and weather forecast. Some themes also provide an animated wallpaper. Find custom themes from our community at http://bit.ly/livewallpaperthemes

The application provides a variety of preferences. The main customization of each live wallpaper contains up to 4 parts
1) Wallpaper. Use default wallpaper of each theme or select your own wallpaper. Some themes have animating wallpapers.
2) Clock. Choose time format. You can hide or show it.
3) Custom text. Change your text. Also, you can hide or show it.
4) Weather forecast. Choose your location. The weather data shows up to 5 days depends on each theme. Also, you can hide or show it. We use weather forecast from NOAA (USA only) and yr.no

Our cool app also include these features
✭ Multiple monitors. You can choose to display different themes for each display.
✭ Edit mode. You can change the position of time, clock, or text to any position.
✭ When switch between spaces, Live Wallpaper will appear instantly.

If you have any questions, please visit http://facebook.com/SquidMelon or http://SquidMelon.com
...More
What's new in Version
2.6
- Add Theme Zombie.
- Add Theme SkyLine.
- Add Theme Currently.
- Add Theme Tree of Love.
...More
Customer Reviews
It's amazing
You know it is not easy to have such great desktop wallpaper app in Mac, unlike in Windowns. This one, is totally fantastic what I want.
It's OK...
Great idea and themes are pretty cool but weather isn't overly accurate for my region (New Zealand). Be good if you could choose better weather souces i.e New Zealand - Metservice.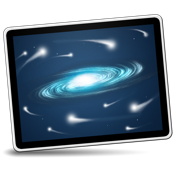 Download for Free
3 Archived versions available
This app is designed for OS X
Mac App Store Price: $1.49

Category:

Weather (Mac)

Updated:

03 May 2013

Version:

2.6

Size:

132 MB

Language:

English

Seller:

SquidMelon
Copyright © 2012-2013 SquidMelon. All rights reserved.
Requirements: OS X 10.6 or later