PetWorld 3D: My Animal Rescue Premium
By Tivola Publishing GmbH
Click on "Download Now" button under Icon or Open AppAddict app on iDevice to download this content for Free
Description
"Help care for adorable creatures and find them the perfect owners. The game includes fantastic 3D environments and loads of interactive items." (appadvice.com)

"A very fresh and relaxing pet raising game." (iapps.com)

"PetWorld 3D: My Animal Rescue" is not only a lot of fun and addictive, it's also visually pleasing." (appsmenow.com)


Whether they're cute hamsters or guinea pigs, sweet bunnies, playful cats or cuddly dogs: they all want to be cared for with love and adopted by the right owners.


ANIMAL CARE

Many of your rescues didn't always have it easy in their lives, but luckily they at least found their way to you. After an initial examination to determine current health conditions and to establish any necessary treatment, life in the animal rescue can begin. Take care of your little friend with food and water and make sure that they always have fresh litter. When they have everything they need, pretty soon they'll feel fit as a fiddle again!


FIND A NEW HOME

Of course the animals are in the best possible hands with you, but they do eventually need a real home. As soon as the head of the animal rescue, a grumpy professor, puts you in charge of the animal adoption process, it's your job to find the most suitable new animal owner. When you pay attention to the animal's needs and the owner's preferences, nothing can stand in the way of their happiness.


FANTASTIC 3D GRAPHICS

"PetWorld 3D: My Animal Rescue" is not only a lot of fun and addictive, it's also visually pleasing. Move through the impressive 3D world of the animal rescue while scooping water out of the well or getting the right food. When you visit the animals you can also of course see them at close range and can observe how the hamsters clean themselves or how the bunnies hop around. You'd rather keep your rescues forever!

So: Go to the Animal Rescue Sunflower, your new friends are waiting for you!


SUPPORT

If you have questions or problems related to the app or in-app purchases, please contact [email protected] per email.

The following tips may also be helpful:

- If you don't know what to do, just tap on the professor and he will help you.
- To ensure that the app runs optimally on older devices, please close all apps running in the background.
...More
What's new in Version
4.3
We've improved PetWorld for you again along with some aesthetic changes!
...More
Customer Reviews
Time Based Game Really??? Not Needed.
I love this app very much the only two problems is I don't think there should be a time limit on this game for how long we have to take care of the animals I think it should be timer less.

Because it is hard to care for all the animals before the 15:00 hour or what ever and I can't beat some of the goals on the game knowing there is a time limit I mean is that really necessary? I hate it.

Plus we should have the option to clean the animals cages like we used to as well as the video option it's not the same please fix theses issues so I can enjoy the game more it would be much appreciated and can you add hamster wheels for the hamsters to play in to there cages and something for the guinnie pigs to play with to as well as the parrots they don't just sit in there cages all day and not do anything they play and move around it would make it more realistic I think thank you this is a great app other wise.

Also can you add pet rats and pharets to the game we can get for free please I'd like that a lot.
...More
Add More Horses
I think this app is great, it's not slow, it doesn't need wifi or signal to use it, but it does need some improvements. I think the game needs not just one horse, but at least 1-4. The customers! They should be virtual, not just some picture of them. Also the parrots! It's really hard to feed the parrots idk why. And also, you should add that we could be able to walk the dogs or ride the horse, instead of just feeding and cleaning. Well, that's it. Thanks, bye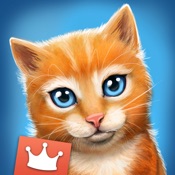 Download for Free
26 Archived versions available
This app is designed for both iPhone and iPad
iTunes Price: $5.99

Category:

Games

Updated:

Jul 19, 2017

Version:

4.3

Size:

178 MB

Language:

English, French, German, Italian, Japanese, Russian, Simplified Chinese, Spanish

Seller:

Tivola Publishing GmbH
© Tivola Publishing GmbH
Requirements: Requires iOS 7.0 or later. Compatible with iPhone, iPad, and iPod touch.
Top in-app purchases
Reptiles

$0.99