The Bourne Supremacy
By Robert Ludlum
Click on "Download Now" button under Icon to download this content for Free
Description
#1 NEW YORK TIMES BESTSELLER
 
Reenter the shadowy world of Jason Bourne, an expert assassin still plagued by the splintered nightmares of his former life. This time the stakes are higher than ever. For someone else has taken on the Bourne identity—a ruthless killer who must be stopped or the world will pay a devastating price. To succeed, the real Jason Bourne must maneuver through the dangerous labyrinth of international espionage—an exotic world filled with CIA plots, turncoat agents, and ever-shifting alliances—all the while hoping to find the truth behind his haunted memories and the answers to his own fragmented past. This time there are two Bournes—and one must die.

BONUS: This edition contains an excerpt from Robert Ludlum's The Bourne Ultimatum.
...More
Customer Reviews
shady on top of shady
These books are so different from the movies. The storyline isn't the same. Also, the timeline is like 60's & 70's instead of current-ish. It kind of makes me think of how superhero comics have alternate reality universes for the same characters. Regardless of the small details, the overall is the same, lots of government and unknowns. He has to figure out who is doing what to him. He starts from nothing, not knowing who is against him or if anyone is on his side. Everyone is shady and a possible threat. Also, because of so much undercover, he has his own mind to compete with when trying to discern what's real. In this story he gets pulled into a battle between two opposing forces in China that could destroy other governments. Also, there is another Bourne, again. All of the scenarios would be dangerous of the best agent without having to sort out their own identity during the process.
...More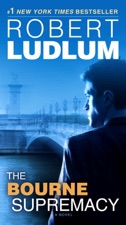 Download for Free
iTunes Price: $9.99

Updated:

Feb 11, 1986

Print Length:

688 Pages

Language:

English

Seller:

Penguin Random House LLC
Random House Publishing Group
Requirements: To view this book, you must have an iOS device with iBooks 1.3.1 or later and iOS 4.3.3 or later, or a Mac with iBooks 1.0 or later and OS X 10.9 or later.