The Bourne Identity
By Robert Ludlum
Click on "Download Now" button under Icon to download this content for Free
Description
#1 NEW YORK TIMES BESTSELLER
 
His memory is a blank. His bullet-ridden body was fished from the Mediterranean Sea. His face has been altered by plastic surgery. A frame of microfilm has been surgically implanted in his hip. Even his name is a mystery. Marked for death, he is racing for survival through a bizarre world of murderous conspirators—led by Carlos, the world's most dangerous assassin. Who is Jason Bourne? The answer may kill him.

BONUS: This edition includes an excerpt from Robert Ludlum's The Bourne Supremacy.
...More
Customer Reviews
Bourne Identity
Excellent book. I am not a reader, but thought I would try a book on Vacation. I could not put it down. Hollywood should make a movie of it.

I know they did, and I loved them, but this is much better.

5 Stars.
Boring
This book was boring. No that much action. I planned on reading the whole series after watching the movies. I was very disappointed in this first book.
The Bourne Identity
Is much more complex than the movie and more engaging. The writing tends to ramble at times, but be not deceived! This is a very good story and he span of the plot and characters is impressive, not over produced, not cut short.
Very good read, stay with it if you like me almost pit it down, the writing is worthy of your perseverance.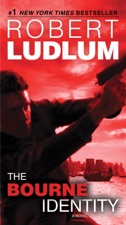 Download for Free
iTunes Price: $9.99

Updated:

Feb 01, 1984

Print Length:

608 Pages

Language:

English

Seller:

Penguin Random House LLC
Random House Publishing Group
Requirements: To view this book, you must have an iOS device with iBooks 1.3.1 or later and iOS 4.3.3 or later, or a Mac with iBooks 1.0 or later and OS X 10.9 or later.