ePaper - Sketch, Write, Paint and Take Notes on a Digital Paper Notebook
By effectmatrix
Click on "Download Now" button under Icon or Open AppAddict app on iDevice to download this content for Free
Description
*** Apple Chose ePaper as "New and Noteworthy" in iTunes Home Page!
*** Reviews by our users:
● Fantastic!!!! - If you want an app just like the top-rated 'Paper' app, but much better with more brushes, undo and picture importing and FAR BETTER on the pocket...then this is the app for you. I wish I had seen this before forking out money (plus extra to unlock pain pallets etc) on the 'Paint' app! Looks good, works smoothly and when you open up the app - all instructions are clearly displayed on the first page of your book. -- by EightiesDizzyDi

● Great app - ePaper can be of many uses! It includes a variety of tools to write down notes. It is pretty handy to have the app to help when I am in classes. Nice! -- by Katy Bobson

● Simple notepad with flipping pages - Finally this app is the one I've been looking for especially the one that allow us turning pages. I like everything in a one place, very compact. -- by Azgem4587

● Great buy! - unbelievable that an app for this price can do everything and do it well and with ease! You can't go wrong, this is one of the best bargains in iTunes Apps! -- by wawright62

● Good app - This app is useful for me. I used to sketch, record & paint balaba…. Easy to manage all the files within quality UI. Pretty good. -- by Winnet Patience

● Great app - This is the most wonderful art/writing app that I've seen so far. The amount of pencils, brushes, and shading options are really impressive. There are also plenty of special effects and endless color choices. Highly recommended. -- by A.m.i.t. .A.s.h.m.a.n

● Great drawing app - Very nicely done, clear and clean design, easy to use. Comes with a ton of brushes, and you don't have to pay extra for anything (unlike other drawing apps). Works great with a stylus. -- by Dude Jackson


ePaper, a sketching app, is the easiest paperless communications tool for EVERYTHING - Planning, storyboarding, problem solving and letting you share your ideas visually anywhere, anytime.

Please kindly click Support URL at the top right to watch a quick 1 minute video showing how ePaper on an iPad was used to sketch the storyboard.

ePaper features highlights:

● 100 types of high-quality natural brushes: brush, pencil, pen, airbrush, watercolor brush, chalk, charcoal, neon pens, special effect pens and so on.

● Undo / Redo function (10 steps !).

● Transparency, Pressure-sensitive, Radius, Hardness of a brush could be adjusted.

● Choose paper template from gallery (Business, Notes, Music, Photo and Pattern Papers)

● Easy add one page to exist book or delete one page from it.Just swipe from the edge to add another page.

● Add more books or delete existing books.

● Zoom functionality.
Fluidly zoom in while drawing to create fine details, and zoom out to see a complete view and add larger elements.

● Import images or photos from your device into a page;

● Edit book name.

● Custom colors.

● Export to image files.

● Export page to pdf file and share it over email.

● Export a page as PDF and share it to other apps, eg iBooks

ePaper helps you create modest, elegant simplicity virtual notebooks. It works the way you think.


Feedback:
Any suggestion will be appreciated, support email: [email protected]
...More
What's new in Version
1.90
1 If you like using our apps, please support us by rating / reviewing the app in the App Store.
2 Book's cover could be changed. (10 templates are available)
3 Output a whole book to PDF. It can be exported or Emailed.
4 You can share the book via Facebook,Twitter etc.
...More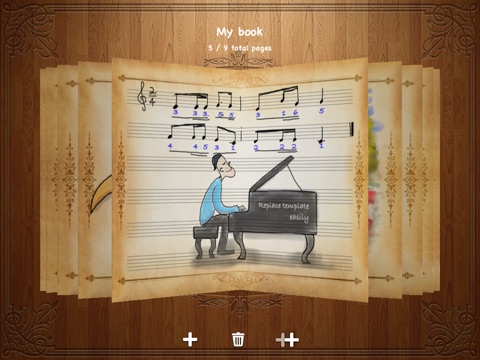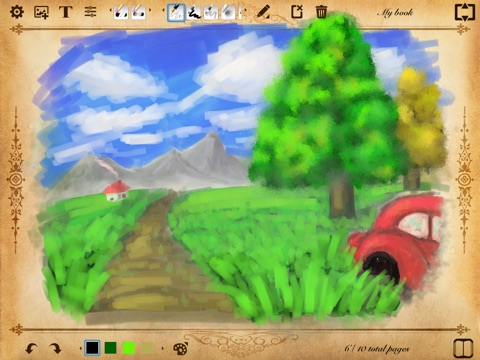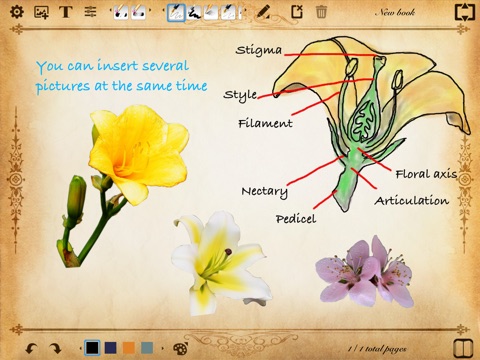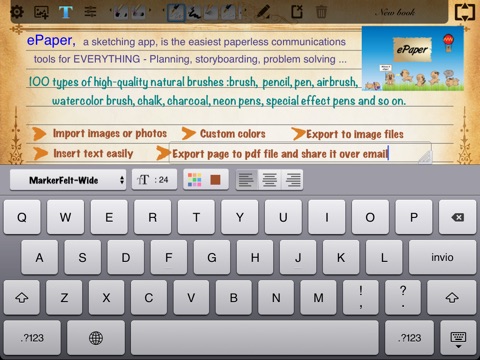 Customer Reviews
Great potential but buggy
This app offers a lot but there are also quite a few bugs. In particular, when you choose the Type option, a text box comes up and you can enter your text; however, there seems to be no way of getting OUT of the Type option other than closing down the app and reopening it. I too would give the app more stars if bugs of this sort were fixed. Thank you.
My favorite of the journal apps
I use this nearly on a daily basis. Love the look, love the functionality. One thing I would request is a black paper background, like a silent picture narration screen.

*update: since the most recent update, it regularly crashes without saving, most likely to happen when turning a page or tilting the device.
Keeps Quiting!
It's a shame about this app as you do get a lot, including terrific features that Paper does not have, like allowing type (fonts), photos, color mixing at no extra cost, adjustments of pen/pencil shading and style (lots!) at no extra, and pressure, etc adjustments. Also like background choices. But it's really buggy and I can't recommend it till these are fixed.

Primary of these: it keeps crashing! Open a book, turn a page, go for a different tool...it quits!

Secondary: you can't name the notebook or alter the cover.

Fix the bugs folks, and I'll happily up the number of stars.
...More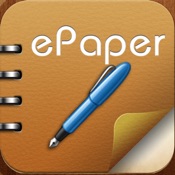 Download for Free
5 Archived versions available
This app is designed for iPad only
iTunes Price: $3.99

Category:

Business

Updated:

Sep 08, 2013

Version:

1.90

Size:

43.9 MB

Language:

English, Dutch, French, German, Italian, Japanese, Portuguese, Russian, Simplified Chinese, Spanish, Swedish, Traditional Chinese

Seller:

effectmatrix
© eTinySoft Inc.
Requirements: Requires iOS 5.0 or later. Compatible with iPad.
Top in-app purchases
Ruled Papers for Business, Photo, Music and Notes

$0.99

Pattern Papers

$0.99