Cubasis 2
By Steinberg Media Technologies GmbH
Click on "Download Now" button under Icon or Open AppAddict app on iDevice to download this content for Free
Description
Cubasis 2 equals ease of use and is as powerful as a fully featured iOS-based music production system can be pushing your capabilities out of limits. Whether you're capturing simple ideas or complex musical masterpieces — It ships with outstanding, touch-optimized tools carrying you into the fun of recording, editing, mixing and sharing your music with the world right away. Get fascinated by the brand new features that Cubasis 2 comes with such as real-time time-stretching and pitch-shifting, a studio-grade channel strip, pro-sounding effects, massive instrument refills, a refreshed MIDI Editor and many more powerful features. Put hands on three internal instruments, numerous loops and instrument sounds to creatively lift your music to perfection using the included mixer and effects. Once recorded, share your music with the world via a simple tap or transfer it directly to Cubase.

Key features
• Unlimited number of audio and MIDI tracks
• 24 assignable physical inputs and outputs
• 32-bit floating point audio engine
• Audio I/O resolution of up to 24-bit/96 kHz
• iOS 32- and 64-bit support
• Real-time time-stretching and pitch-shifting featuring zplane's élastique 3
• Micrologue virtual analog synthesizer with 126 ready-to-go presets
• MicroSonic with over 120 virtual instrument sounds based on HALion Sonic, HALiotron and Allen Morgan drum kits
• MiniSampler to create your own instruments (includes 20 factory instruments)
• Mixer with studio-grade channel strip per track and 17 effect processors
• Super-versatile RoomWorks SE* reverb effect providing uniquely professional sound and an intuitive graphical display for instant visual feedback at slightest parameter changes
• Fully automatable DJ-like Spin FX effect plug-in
• Over 550 MIDI and time-stretch-capable audio loops
• Virtual keyboard, chord and drum pads with intuitive note repeat control
• Sample Editor and Key Editor with MIDI CC support
• Refreshed MIDI Editor with ultra-intuitive, lightning fast and accurate handling to edit MIDI tracks and compose music easier than ever before
• MIDI Auto Quantize
• Track Duplicate
• Automation, MIDI CC, program change and aftertouch support
• Export to Cubase, iCloud Drive, external hard drives, wireless flash drives, Dropbox, SoundCloud, AudioCopy and email
• Core Audio and Core MIDI compatible hardware supported
• MIDI over Bluetooth LE support
• Full Audio Unit, Inter-App Audio and Audiobus 3 support to use compatible apps as insert/send effects and virtual instruments or simply record their audio output
• Import audio from your iTunes music library or iCloud Drive or iTunes file sharing, use AudioPaste or set up a Wi-Fi server in Cubasis
• Audio mixdown and MIDI export
• MIDI clock and MIDI thru support

"Probably the best iPad-based DAW in terms of usability and flexibility, and it links up with Cubase on your desktop, too."
— MusicTech.net

"So all in all Cubasis is a hands down victory. Everything supplied here works and works perfectly. If you are a Cubase user and own an iPad, this is simply a no brainer, you have to have it."
— askaudiomag.com

Technical support
http://www.steinberg.net/cubasisforum

Polyphony:
48 voices: iPad 2, iPad mini
128 voices: iPad 3, iPad 4, iPad mini 2, iPad mini 3, iPad Air, iPad Air 2, iPad Pro

*User registration required to unlock RoomWorks SE reverb effect.
Audio Unit extension requires iPad Mini 2, iPad 4 or newer model.
iCloud Drive export requires iOS 10 or higher. Audio Unit and Waves plug-in (in-app purchase) automation requires iOS 10 or higher.

Project export to Cubase requires Cubase Pro 9/Pro 9.5, Cubase Artist 9/9.5, Cubase LE/AI/Elements 9 or higher.
Cubasis project importer extension must be installed and is available at http://www.steinberg.net/cubasisimporter

Please check the Steinberg End User License Agreement on this website:
http://www.steinberg.net/eula
...More
What's new in Version
2.3.1
This supplemental update includes minor bug fixes and is recommended for all Cubasis users.
---
• 25th year anniversary Waves plug-in in-app purchases — Extend Cubasis with exclusive award-winning Waves plug-ins
• Waves AudioTrack Channel Strip (in-app purchase) — Get a mixing console's channel strip including compression, EQ and gating in one convenient, intuitive plug-in*
• Waves L1 Ultramaximizer (in-app purchase) — Make your tracks sound professional, with proper loudness levels that will let them stand out*
• Waves Q10 Equalizer (in-app purchase) — Use the pro's first choice and enjoy surgically precise equalization for mixing your tracks*
• Waves Plug-in Bundle — Polish your tracks to perfection with three all-time classic plug-ins from Waves*
• Audio Unit automation — Record subtle parameter changes from your favorite AU instrument and effect apps on the fly**
• Audio Unit user presets — Easily load and save your favorite AU presets
• Cubasis effect user presets — Create your own effect presets with the simple touch of a button
• Over 200 Cubasis effects factory presets — Choose a preset to instantly achieve perfect sounding results for any track
• More than 70 FX Pack factory presets — Infuse new life into your FX Pack effects with this massive preset library***
• Maintenance and improvements — For a complete list of improvements, issues and solutions please visit us at: www.steinberg.net/cubasisforum

We hope you find the latest feature additions useful.
If you like Cubasis, please support us by rating this app in the App Store!
Thank you.

*This in-app purchase requires iPad 4 or higher, iPad mini 2 or higher models.
**Audio Unit and Waves plug-in (in-app purchase) automation requires iOS 10 or higher.
***To make use of the free presets, FX Pack 1 and/or FX Pack 2 have to be purchased via in-app purchase.
...More
Customer Reviews
Learn or burn
As soon as i entered my audio or used the drum samples from Cubasis own media port the pitch was different by at least a whole note also sounds compressed and weak. I went into settings and made some adjustments to the quality, sample rate.... and its better now. Before There was ducking happening. That too was the low settings either i made or it was already set up that way. Sound would fade in and out against any sound that that competes. Lots of potential here now that i figured it out but i spent a lot of time on it with embarrassing results. If you are like me and never used Cubase you might be in for a challenging learning curve. The help manual will not recognize my simple questions for example; i type in freeze. It responds; do you mean unfreeze? I still dont understand freeze. I'll get to it eventually but i have made recordings and got some compliments on soundcloud so i guess so far i dont need to be frozen. 5 stars when you put in a tuner and let us see (like in Fruity Loops) the (Letter) Note we are playing.
...More
blurry text and bad looking interface
as much as I want to enjoy and use this app regularly, the blurry text and overall poor graphical resolution makes this really challenging for me. I know that this may seem like a dumb issue to complain about when writing a review for an iPad DAW with a clear amount of huge potential, but I can only take it for so long before the blurry text and graphical interface make using this application impossible for me.

I am using an iPad pro 10.5" to run this application, and it is clear that the developers did not properly prepare the interface for the updated resolution for which the iPad pro is capable.

It is a shame because there are some great sounds and features loaded into this DAW that would be very useful to me, but until then, I'm sticking with garageband.

While this problem persists, I am unable to use the application. I would not recommend this application if you are using an iPad pro.
...More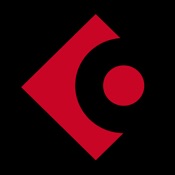 Download for Free
19 Archived versions available
This app is designed for iPad only
iTunes Price: $49.99

Category:

Music

Updated:

Dec 02, 2017

Version:

2.3.1

Size:

1.15 GB

Language:

English

Seller:

Steinberg Media Technologies GmbH
© Steinberg Media Technologies GmbH, 2017
Requirements: Requires iOS 9.0 or later. Compatible with iPad.
Top in-app purchases
FX Pack 1: Reverbs & Delays

$6.99

FX Pack 2: Vintage FX

$6.99

Classic Machines

$6.99

Waves Plug-in Bundle

$19.99

Waves AudioTrack

$7.99

Waves L1 Ultramaximizer

$7.99

Waves Q10 Equalizer

$7.99