LEGO The Lord of the Rings
By Feral Interactive Ltd
Click on "Download Now" button under Icon to download this content for Free
Description
One game to rule them all.

Selected as "Game of the Year" (non-United States) and one of the "Best Games of 2013" (United States) in the "Mac App Store Best of 2013"!

Before you buy, expand this description to check the system requirements below.

The Dark Lord Sauron is threatening to destroy Middle-earth brick by brick, and only a Hobbit can stop him! Together with his friends, Frodo Baggins must journey to Mount Doom and cast Sauron's evil ring back into the fiery chasm from whence it came, ending the Dark Lord's reign forever.

The smallest person can change the course of the future, even one made out of LEGO! Become Frodo and over 80 other playable characters and embark on an epic quest across an open-world version of Middle-earth in this lighthearted and imaginative retelling of the renowned movie trilogy.

Key Features:

• Experience The Lord of the Rings movie trilogy the LEGO way, with a minifigure cast, dialogue from the films, and a uniquely challenging brick-based version of Middle-earth.

• From the peaceful fields of the Shire to the mysterious beauty of Rivendell and on to the fearsome depths of Mordor, forge your own path through a vast open world.

• Set out on perilous side quests, discover secret areas and solve challenging puzzles alongside the epic main adventure.

• Master the special powers of over 80 playable characters, including Frodo's ability to wear the One Ring and enter the shadowy world of the Ringwraiths...

• Hunt for hidden treasure! Collect, craft and use magical items including Wizard staffs, Mithril armour and Elven blades that glow blue in the presence of Orcs.

• Battle Ringwraiths, Mountain Trolls and the Balrog, and smash hundreds of Orcs to pieces with Aragorn's sword, Legolas' bow and Gimli's axe!

• Share the adventure in co-operative multiplayer mode! Form a fellowship with friends and family and explore Middle-earth together.


Important information regarding LEGO The Lord of the Rings:

• If you require assistance, please contact our support team at [email protected]

• Minimum System Requirements: Processor: 1.4GHz, RAM: 4GB, Graphics: 128MB, Free Space: 8GB.

• The following graphics cards are not supported: ATI X1xxx series, ATI HD2xxx series, NVIDIA 7xxx series, NVIDIA 8xxx series and Intel GMA series.

• This game is not currently supported on volumes formatted as Mac OS Extended (Case Sensitive).

• You can find out more about the game on the LEGO The Lord of the Rings mini-site at feralinteractive.com/legolordoftherings


LEGO THE LORD OF THE RINGS software © 2013 TT Games Publishing Ltd. Produced by TT Games under license from the LEGO Group. LEGO, the LEGO logo, the Brick and the Knob configurations and the Minifigure are trademarks of the LEGO Group. © 2013 The LEGO Group. © 2013 New Line Productions Inc. All The Lord of the Rings content other than content from the New Line films © 2013 The Saul Zaentz Company ("SZC"). Mithril, Morgul, The Lord of the Rings and the names of the characters, items, events and places therein are trademarks of The Saul Zaentz Company d/b/a Middle-earth Enterprises under license to Warner Bros. Interactive Entertainment. Published on the Mac by Feral Interactive Ltd. Mac and the Mac logo are trademarks of Apple Inc., registered in the U.S. and other countries. Feral and the Feral logo are trademarks of Feral Interactive Ltd. All other trademarks and copyrights are the property of their respective owners. All rights reserved. WB GAMES LOGO, WB SHIELD: ™ & © Warner Bros. Entertainment Inc. (s13)
...More
Customer Reviews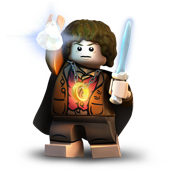 Download for Free
This app is designed for OS X
Mac App Store Price: $4.99

Category:

Games (Mac)

Updated:

Feb 21, 2013

Version:

1.0

Size:

6.25 GB

Language:

English, Danish, Dutch, French, German, Italian, Polish, Portuguese, Russian, Spanish

Seller:

Feral Interactive Ltd
LEGO THE LORD OF THE RINGS software © 2013 TT Games Publishing Ltd. Produced by TT Games under license from the LEGO Group. Published on the Mac by Feral Interactive Ltd.
Requirements: OS X 10.7.5 or later