My Sketch Paper - Write, Paint on Notebook
By effectmatrix
Click on "Download Now" button under Icon or Open AppAddict app on iDevice to download this content for Free
Description
My Sketch Paper, an excellent freehand creative tool, beautifully be filled with anything from a sketch to a flow-chart, a list to an diagram. You can make extremely smooth lines and began drawing, writing, diagramming, etc with the default pen and brushes. A fresh canvas is ready and waiting for your ideas, inspiration, and art.

It is worthy and the best choice for professional and casual sketching. Get My Sketch Paper and get creating.

My Sketch Paper features:

Unique Paper Studio Features:
- Quickly add one page to exist book or delete one page from it. To move between pages, swipe from one side to other in the direction you wish to go.
- Add more books or delete existing books.
- Edit book name.
- Copy pages.
- Change page template.
- Export to image file.
- Export page to pdf file and share it over email.

Advanced Brush System:
- Transparency, Pressure-sensitive, Radius, Hardness of a brush could be adjusted.
- Comes with three free fountain tools: a pen, a brush and a special effect brush.
- ( In-App Purchase ) 97 shapes high-quality natural brushes: brush, pencil, pen, airbrush, watercolor brush, chalk, charcoal, neon pens, special effect pens...

Simple and Powerful Interface:
- Custom colors.
- Support text input.
- Input image from pasteboard.
- Undo / Redo function (10 steps !).
- Import images or photos from your device and draw over your images.
- Eraser tool to correct possible mistakes.
- Two fingers zoom canvas. Fluidly zoom in while drawing to create fine details, and zoom out to see a complete view and add larger elements.

Feedback:
Any suggestion will be appreciated, support email: [email protected]
...More
What's new in Version
1.70
1 If you like using our apps, please support us by rating / reviewing the app in the App Store.
2 Book's cover could be changed. (10 templates are available)
3 Output a whole book to PDF. It can be exported or Emailed.
4 You can share the book via Facebook,Twitter etc.
...More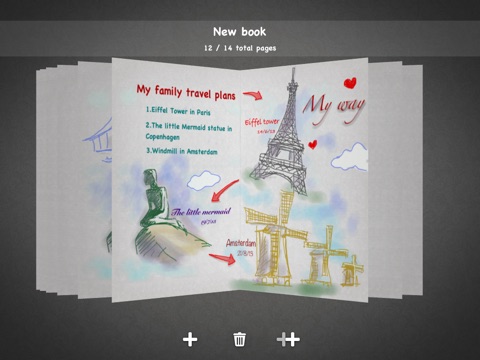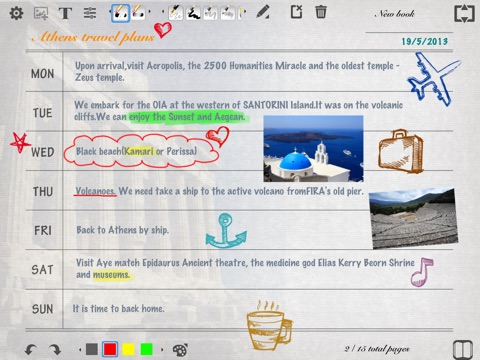 Customer Reviews
Nice sketch app, still some rough points
I'm reviewing this app on an iPad3 running 5.1.

Basic sketch functionality is there, but the following could be improved:

-Retina resolution support would be nice. Many of the UI elements look blurry on a retina iPad. Also the sketched lines aren't as crisp as they could be.
-The first time a line is drawn after opening the app, the performance is quite poor. For about a second, the app cannot keep up with my finger.
-When looking at my page in the 3D mode, if I swipe and hold the page so that it starts flipping left or right and then let go, the animation of the page returning to its default center position seems to have a very poor frame rate.

I also found the following bugs:

-The control window for opaqueness, radius, etc., always shows the first slider label in Dutch, no matter what language I set my preferences to.

-If my iPad is in portrait mode, the app will sometimes also launch into portrait mode rather than forcing landscape mode. If I then rotate to landscape, the app will correct itself and stay in the landscape mode.

-If I'm not logged into Facebook, trying to share via Facebook will result in an API error message rather than offering me a login window.
...More
Not intuitive at all-Watch the developers video!
Has not crashed on me like others have reported.
Difficult to figure out how to use. Took me a bit (15 min.) to figure out how to name the book. Okay, went to the developers web site and watched their video, pinch the book closed! watch the video! Then you will learn how to use this app.
The only thing missing is a way to record a voice message.
Giving this three but I feel I might not be giving enough stars, it really is a good app.
draws like me
These tools behave intuitively with the way I work. I primarily use a brush and the brush tool in this app is natural and fluid. I feel like I'm much more myself with this app. I gladly paid for more brushes. Awesome tools like step back are a big help, and mixing color - that other apps make you pay for - is included. LOVE this for drawing and painting. The fact you can add type is just over the top cool. THANK YOU!!!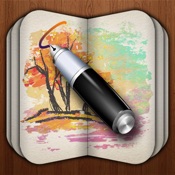 Download for Free
This app is designed for iPad only
iTunes Price: $1.99

Category:

Lifestyle

Updated:

Sep 27, 2013

Version:

1.70

Size:

35.5 MB

Language:

English, Dutch, French, German, Italian, Japanese, Portuguese, Russian, Simplified Chinese, Spanish, Swedish, Traditional Chinese

Seller:

effectmatrix
© EffectMatrix
Requirements: Requires iOS 5.0 or later. Compatible with iPad.
Top in-app purchases
All Brushes set

$3.99

Pen Sketch

$0.99

Ruled Papers for Business, Photo, Music and Notes

$0.99

Paintbrush

$0.99

Pattern Papers

$0.99

Pencil Drawing

$0.99

Texture Painting

$0.99

Blur Painting

$0.99

Airbrush

$0.99

Linear Abstract Brushes Set

$0.99