Gone
By James Patterson & Michael Ledwidge
Click on "Download Now" button under Icon to download this content for Free
Description
A crime lord has declared war on America. Only Detective Michael Bennett knows why.

Manuel Perrine doesn't fear anyone or anything. A charismatic and ruthless leader, Perrine slaughters rivals as effortlessly as he wears his trademark white linen suit. Detective Michael Bennett once managed to put Perrine behind bars, the only official in the US ever to accomplish that. But now Perrine is out, and he has sworn to find and kill Bennett and everyone dear to him.

Detective Bennett, along with his ten adopted children, their nanny, and his grandfather, are hidden safely on a rural California farm, with guards courtesy of the FBI's witness protection program. Perrine begins to embark on an escalating series of assassinations across the country, killings whose brazenness and audacity bring into question the possibility of safety and law in the US. The FBI has no choice but to ask Detective Bennett to risk it all in Perrine's war on America.

With explosive action and fierce villainy that rivals James Bond movies at their best, GONE is the next astounding novel by James Patterson.
...More
Customer Reviews
Treacly, sardonic dialogue gets annoying
Moves along at an expected pace. Very thin on substantive details, which makes the action 2-dimensional and occasionally unbelievable. As in: cannot be believed because of poor craftsmanship.

The repeated, treacly cheeriness of the main characters started making me root for the wrong side.

Almost satisfying. Not a hot mess.

But not good, either.
Know when to quit
Fro one-half of the story this was one of the best books I'd read in a long time. Great read! Unfortunately the second-half was almost horrible.
Great book
Nonstop exciting book! Love it!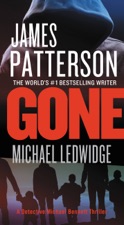 Download for Free
iTunes Price: $9.99

Updated:

Sep 30, 2013

Print Length:

416 Pages

Language:

English

Seller:

Hachette Digital, Inc.
Little, Brown and Company
Requirements: To view this book, you must have an iOS device with iBooks 1.5 or later and iOS 4.3.3 or later, or a Mac with iBooks 1.0 or later and OS X 10.9 or later.