Alarmy Pro - Alarm Clock
By Delight Room Co., Ltd.
Click on "Download Now" button under Icon or Open AppAddict app on iDevice to download this content for Free
Description
■ "World's Most Annoying Alarm App, featured by Cnet, Gizmodo,Huffington post etc."
■ #1 in the category in 80 countries, including Germany, France, and South Korea. (Appstore)
■ Features "Photo Mode" (Get out of bed and take a picture of registered place to turn off alarm)
■ Also support "Shake Mode" (To turn off alarm, shake your phone) and "Math problem mode" (To turn off alarm, solve the math problem)
■ No more late mornings for you

■ How to turn off the alarm ? (Picture dismiss mode)
- Register a place where you want to turn off the alarm.
- When alarm starts ringing, you will have to go to the registered place and take a picture.
e.g.) If bathroom is the registered place, wake up and take a picture of the bathroom.

■ Tip
- good place to register : bathroom sink, front door, shelf, desk, specific object, far from bed
- bad place to register : brightness changes frequently, close to your bed, cealing, floor
- If the currently registered alarm picture is too easy or too difficult to turn off, please register a new place :)

Alarmy (Sleep If U Can) is the innovative solution for those who just can't seem to get up on time, even with an alarm clock. This app has been cleverly designed to force you to get out of bed. You set it up by registering a photo of an area or room in your house. Then once the alarm is set, the ONLY way to make it stop ringing is to get out of bed and go take a photo of the registered area.

The World's Most Annoying Alarm
Dubbed as "the world's most annoying alarm", Alarmy has quickly become a favorite mobile app among users. It has been featured in Gizmodo, Cnet, and at Huffington Post, and is currently Number One in its category in 70 countries, including France, Germany, and South Korea.

Users are truly enjoying this app and many have devised their own unique methods around the alarm's requirements. For instance, you could register the foot of the bed as your location, then you would only need to wake up enough to take a pic of the foot of your bed and then go right back to sleep. Of course, this totally circumvents the whole purpose of the app but has become a fun pastime for many users.

Works Better Than Other Alarm Clocks
Other creative locations that users have come up with include the ceiling of their room, a nightstand, or the floor. If you're more serious about really getting up on time, then how about registering the bathroom sink or an item in the kitchen?

Though the app has sparked lots of interest and has proven to be really entertaining, it will definitely get you out of bed. If you absolutely MUST get up on time for an important appointment or job interview, then this would be the perfect solution.
...More
What's new in Version
4.7
• New 'Quick Alarm' and 'Quick Alarm Widget' has arrived! Set alarms for a few mins to hours later from your home screen.
• Duplicate, Skip, Preview alarms right on the list.
• Icons are redesigned to be bolder, more clear and stylish.
• Alarm preview now makes sound by defaults.
• More natural alarm sound fade in.
• Fix issue of alarm sound not resumed properly after mission countdown.
• Minor bug fixes and performance improvements.
...More
Customer Reviews
Used to honestly hit the snooze for an hour
This alarm helps me get up a lot better than others I have used. I use the 8-addition math feature and that's enough to get me out of my usual morning fog. I used to honestly hit the snooze from 6am until 715am. This helps me immensely. Thank you creators ! // update on my issue as of 1/1/18 ... I had inadvertently changed my Do Not Disturb time to 630 ... my bad ! Sorry. Now it is set back to 555 where I originally had it. Stars reinstated.
First review
I have to write this even tho i normally don't.
This app has everything I need and does better. Just keep it up! Don't die without updates.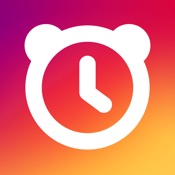 Download for Free
58 Archived versions available
This app is designed for both iPhone and iPad
iTunes Price: $1.99

Category:

Lifestyle

Updated:

Jan 10, 2018

Version:

4.7

Size:

144 MB

Language:

English, Arabic, Catalan, Croatian, Czech, Danish, Dutch, Finnish, French, German, Greek, Hebrew, Hungarian, Indonesian, Italian, Japanese, Kannada, Korean, Malay, Norwegian Bokmål, Polish, Portuguese, Romanian, Russian, Simplified Chinese, Slovak, Spanish, Swedish, Thai, Traditional Chinese, Turkish, Ukrainian, Vietnamese

Seller:

Delight Room Co., Ltd.
Copyright © 2018 Delight Room Co., Ltd. All rights reserved.
Requirements: Requires iOS 9.0 or later. Compatible with iPhone, iPad, and iPod touch.