Multiplayer for Minecraft PE
By Innovative Devs
Click on "Download Now" button under Icon or Open AppAddict app on iDevice to download this content for Free
Description
*** The first App which allows you to PLAY AND HOST Minecraft PE online right from your device - no Desktop/PC required! Another world first - play online over WiFi/3G/4G/LTE too ***

HOST your own PE servers right from your own device (iPod, iPhone and iPad), no desktop computer required! No recurring charges, no In-App purchases :-)

PLAY on hundreds of public servers, or privately against your friends. Enjoy online play without having to be on the same wifi. Your crafting is finally set free from having to be on the same wifi. Better still, you can use in game voice chat for free and talk to other players while you play!

Play on hundreds of POCKETMINE servers, including special servers only available to users of the app e.g. Mini Games, Temple of Notch, Dungencraft, Legendcraft!

- Create/Host your own servers and advertise them on the App for others to join you.
- Create/Host private servers, so only friends you've invited can join.
- Free in game voice chat. Stevie won't need to learn sign language, all participants can use in game voice chat to communicate.
- Server hosts can manage users, with the ability to kick and ban griefers.
- Free game to keep you busy while you look for a server to connect to.
- Play online using WiFi
- Play online using 3G/4G/LTE


No subscriptions, no charges, no waiting for your server to be approved. Finally you can have more than just creepers to keep you company on your Minecraft World.

[NOTE: This application will require you to install a VPN profile and connect to our network via the VPN. Only game related traffic will pass over the VPN, all other traffic will pass over your normal network connection. This application requires you to have either the free or paid version of Minecraft PE]

(If you have any issues, please contact using the email button in the app! We've yet to find anyone who's issue we've not been able to fix!) 

Disclaimer – This is a third party App, it is not the game MineCraft or affiliated with the game and its makers in anyway.
...More
What's new in Version
2.18
Initial HotFix for iOS 10 compatibility/issues
...More
Customer Reviews
DO NOT BUY!!!
Ok so I got this app to play with my friends and I typed in the name and did everything it needed me to do and I put multiplayer on my setting on minecraft and so did my friend. I sent him a request to join my game and it said he joined my game and I typed in hi and I didn't get an answer. So I texted him and told him to leave (thou he really wasn't joined) and I placed a bed for the spawn point and it said he joined but he really didn't. We tried joining each other's game for 2 hours and we got NOTHING!!! The next day he sent me a request so I joined and he was right in front of me so I pressed the walk button and the minute I pressed the button the game crashed! I tried to join a random server to test it and nothing happened... If I were you I wouldn't waste my money on this junk.
...More
Please take away VPN.
I'd like to address the fact that you've added VPN into the game. It's been very difficult to play since you've added VPN. I like the way Multiplayer For Minecraft used to be, without the VPN. I know that updates can be good, but this one, not so much... if you do have another update, please consider removing the VPN, that way, players will have the freedom to play more efficiently. Thanks for you're consideration! :)
Nipples
Today me and my friend decided to download this game again, we used to play every day until it stopped working, and here are a few things you need to fix:
•No More Private Worlds
If you're working on a really nice world, some hacker or a troller or just an annoying person will come in and troll or be annoying and you don't have any privacy
•Wi-Fi
This problem isn't because of MY wifi network because honestly,I have pretty decent wifi. But this game makes my wifi make my game crash and go down
...More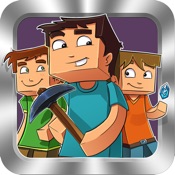 Download for Free
18 Archived versions available
This app is designed for both iPhone and iPad
iTunes Price: $2.99

Category:

Games

Updated:

Oct 05, 2016

Version:

2.18

Size:

20.4 MB

Language:

English

Seller:

Innovative Devs
© Innovative Devs
Requirements: Requires iOS 8.0 or later. Compatible with iPhone, iPad, and iPod touch.