Kitchen Myths - Facts and Fiction About Food and Cooking
By Peter Aitken, Ph.D
Click on "Download Now" button under Icon to download this content for Free
Description
The world of food and cooking is full of falsehoods―things that are commonly believed to be true, but in fact are not. These kitchen myths may come from a TV chef, a cookbook author, or your mom, and many people find it hard to give up long-held beliefs. The author, a retired medical school professor, punctures and deflates dozens of myths, always with an emphasis on sound scientific principles and credible evidence. Illustrated throughout with the author's own photographs, this book is an enjoyable read and will surely improve your culinary skills and knowledge.
...More
Customer Reviews
No reviews yet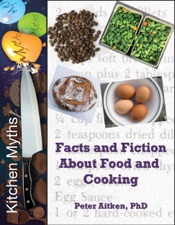 Download for Free
iTunes Price: $5.99

Category:

Cookbooks, Food & Wine

Updated:

Apr 01, 2013

Print Length:

62 Pages

Language:

English

Seller:

Untreed Reads, LLC
Piedmont Medical Writers LLC
Requirements: To view this book, you must have an iOS device with iBooks 1.3.1 or later and iOS 4.3.3 or later, or a Mac with iBooks 1.0 or later and OS X 10.9 or later.