SEGA Superstars Tennis
By Feral Interactive Ltd
Click on "Download Now" button under Icon to download this content for Free
Description
Tennis gets a SEGA spin!

Before you buy, expand this description to check the system requirements below.

Sonic and a superstar cast of fan-favourite characters serve up extreme arcade tennis on courts inspired by SEGA's psychedelic gameworlds. Compete in madcap matches, crazy tournaments and wacky minigames in this wildly imaginative take on tennis.

Hone your skills in quick matches, then take on the grand challenge of "Planet Superstars" mode, a series of tournaments and minigames which include smashing zombies with well-aimed shots, making paintball graffiti and knocking giant monkey balls into an open goal.

Key features:

• Master every surface! With courts in a secret lab, a disco space station and even a spooky graveyard, SEGA Superstars Tennis goes way beyond grass and clay.

• Unleash each character's game-changing special move, including Sonic's super speed, Dr. Eggman's devastating electric spike ball and AiAi's banana-shaped curve shots.

• Take on a volley of modes, from the grand challenge of Planet Superstars mode to friendly matches and quirky bonus games.

• Challenge your friends to a match or team up for doubles with shared-screen multiplayer for up to four players!

• Whatever your grip, SEGA Superstars Tennis supports a wide range of gamepads including the Xbox 360 and PlayStation 3 controllers.


Important information regarding SEGA Superstars Tennis:

• If you require assistance, please contact our support team at [email protected]

• Minimum System Requirements: Processor: 1.8GHz, RAM: 4GB, Graphics: 256MB, Free Space: 3GB.

• The following graphics cards are not supported: ATI X1xxx series, ATI HD2xxx series, Intel GMA series, NVIDIA 7xxx series, NVIDIA 8xxx series and NVIDIA 9400.

• This game is not currently supported on volumes formatted as Mac OS Extended (Case Sensitive).

• You can find out more about the game on SEGA Superstars Tennis mini-site at feralinteractive.com/superstarstennis


© SEGA. SEGA, the SEGA logo, SEGA SUPERSTARS and SEGA SUPERSTARS TENNIS are either registered trademarks or trademarks of SEGA Corporation. Developed for and published on the Mac by Feral Interactive Ltd. Mac and the Mac logo are trademarks of Apple Inc., registered in the U.S. and other countries. Feral and the Feral logo are trademarks of Feral Interactive Ltd. All other marks and trademarks are the property of their respective owners. All rights reserved.
...More
What's new in Version
1.0.1
• Fixes a bug which prevents running on 4GB graphics cards.
• Fixes a number of minor issues.
...More
Customer Reviews
Stellar Mascot Tennis Romp
Sega Superstars Tennis is most definitely a superb Mascot tennis game in the style of a Mario Tennis game. The characters all have advantages and disadvantages when playing against one another, which keeps things interesting, while the courts all have different effects on your play style as well. The visuals are excellent and the game runs smoothly on my Mac Mini (Late 2014) at 1600x900 (HP monitor), so while it is pretty it obviously runs very efficiently as well. As another review said, the keyboard controls are actually quite excellent, although there is a wide range of gamepad support available if you want to go that way.

There are challenges and missions to participate in as well as the typical tournament cup kind of thing. Both singles and doubles play, as well. And with so many different characters who all vary so much, I think this game has tons of replay value.

This game is priced more than fairly and it is a lot of fun. If you like mascot tennis games, arcade-style tennis games, or Sega characters I think this game is an obvious purchase and you will probably enjoy it.
...More
My Daughter and I
Been trying to find a title that like Mario party without having to download all that emulator jazz. Hope This is a good one. Always had fun playing sonic, growing up.
If you like Sega charaters and Tenis, you´ll enjoy it
Well, it has USB Joypad support, at leat for mine and is a generic one, nice graphics, good controls, runs pretty fine on MacBook Air late 2010 ! pleae bring us Crazy Taxy, Sonic Riders and more game from Sega !!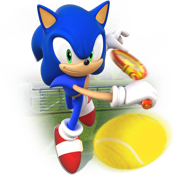 Download for Free
1 Archived versions available
This app is designed for OS X
Mac App Store Price: $9.99

Category:

Games (Mac)

Updated:

Nov 11, 2013

Version:

1.0.1

Size:

1.87 GB

Language:

English, French, German, Italian, Spanish

Seller:

Feral Interactive Ltd
© SEGA. SEGA, the SEGA logo, SEGA SUPERSTARS and SEGA SUPERSTARS TENNIS are either registered trademarks or trademarks of SEGA Corporation. Developed and published on the Mac by Feral Interactive.
Requirements: OS X 10.7.5 or later