BIAS Amp
By Positive Grid Inc
Click on "Download Now" button under Icon or Open AppAddict app on iDevice to download this content for Free
Description
BIAS is an Amp Designer, Modeler and Processor. It's warm, accurate and more versatile than any other modeler, processor in hardware or software ever created.

Tap once to open your BIAS amp in BIAS FX and JamUp app and add awesome multi-effects. Also check out BIAS Desktop (AAX/RTAS/VST/AU): www.positivegrid.com

BIAS starts with stunning replications of 36 of the most sought-after vintage and modern amps in rock 'n' roll history and then lets you customize them to respond perfectly to your unique touch and feel. Swap out the tubes, preamp, transformer, tone stacks, cab and mic—even change the tube's bias—to create your dream amp and distinctive signature sound.

Close your eyes, and you'll swear you're hearing the real thing. With BIAS, you own a complete virtual collection of the most coveted and unique guitar amps of all time—some dating as far back as the 1940s. Every amp model is meticulously engineered to respond to your playing with immediacy, sensitivity and realism that make you not only sound better but also play better. And BIAS sounds great on bass guitar, too.

But BIAS doesn't stop there. Create totally new sounds by designing your custom dream amp. It's as easy as tap and drag. Using BIAS' highly intuitive and lightning-fast interface, it's child's play to instantly swap out colorful tube preamps, lush distortion circuits, classic tone stacks, boutique power stages, custom-built transformers and cabs loaded with specially matched speakers. The result is a depth and range of tones not possible using traditional guitar amps or other modelers. Whether you're a classic rocker, metalhead, jazz player, bluesman or singer-songwriter—and whether you understand how amplifier electronics work or not—you'll be dialing in killer, exclusive tones in a heartbeat.

BIAS integrates seamlessly with Positive Grid's BIAS FX and JamUp guitar multi-effects apps for iPad, expanding BIAS into a powerful and completely unified professional guitar system for live use, recording and jamming. Simply tap the JamUp icon on BIAS' upper bar to open your current BIAS amp setup directly in either JamUp XT or JamUp Pro XT. JamUp XT adds 1 amp and 6 effects to your BIAS rigs. JamUp Pro XT adds fully 6 amps and 16 stomp-box and premium rack effects - including distortion, compression, tape delay, tremolo and spring reverb. Both JamUp XT and JamUp Pro XT include Jam player, 8-track recorder and phrase sampler, tuner and metronome, effectively turning BIAS into a recording studio and top-of-the-line practice utility.

BIAS works with GarageBand and other audio apps using iOS's Inter-App Audio and Audiobus. Whether recording, songwriting, or honing your chops—at home or on the road—BIAS places unequaled tone at your fingertips.

FEATURE HIGHLIGHTS
• The most complete, accurate, and versatile amp modeling available in the world
• 36 amp models included with the introductory release
• Factory categories organize amps by music genre and sonic impact: clean, blues, twang, crunch, metal, acoustic and bass
• Fully customizable preamps, tone stacks, power amps, transformers, cabinets and mic selection and placement—mix and match!
• Customize the look and feel of your own amp panel, change name, tolex, panel and knobs.
• Works the way guitarists think: tweak gain and overdrive, swap out tubes and transformers, change the cabinet and mic position, and shape the tone with different tone stacks and two 8-band equalizers
• Included noise gate and room simulator
• Create a virtually unlimited number of custom amps
• Quick preset to recall each of your 8 favorite settings in turn with just one tap
• Seamless integration with BIAS FX, JamUp XT and JamUp Pro XT, open and save your amp models inside BIAS FX and JamUp with one tap
• Works with GarageBand and other audio apps via Inter-App Audio and Audiobus.

www.positivegrid.com
...More
What's new in Version
1.8.0
Hi There,

Positive Grid is proud to introduce a significant update that will make the world's best amp modeling software even better!

In this update, we added 9 new reverbs to the BIAS Amp software that will also work seamlessly with BIAS Head and BIAS Rack (firmware update required).

Here's more info about the Reverb feature:

-NEW: Reverb types that include Room (x2), Chamber, Hall (x3), and Plate (x3).
-NEW: Reverb controls that include Reverb Type, Decay Time, Mix, Damping (which simulates absorptive material in the reverb room, rolling off high frequencies naturally), Lo and Hi Cut filters, and Dwell (which saturates the reverb return).
-We have also made changes to make noise gate and reverb as preset dependent, which means you can save different gate and reverb parameters to different amp tones accordingly.
-Various minor fixes.

Hope you'll enjoy it! To learn more, please head over to:
https://www.positivegrid.com/bias-head and https://www.positivegrid.com/bias-amp .

Our Black Friday Promotion begins now, please check out:
https://www.positivegrid.com/promotions/ for more information.

Rock On!
Positive Grid team
...More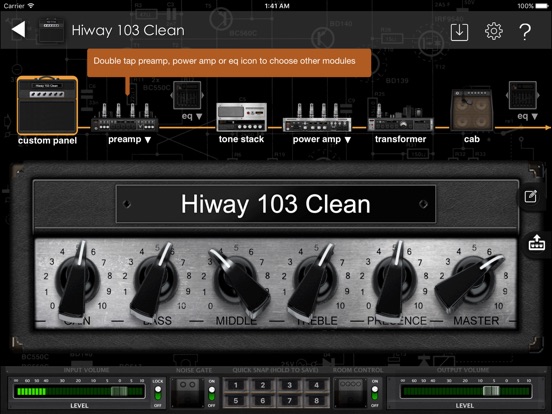 Customer Reviews
Can't import amps into bias fx now.....great
I really wish you guys would focus a little more on those of us who spent a lot of money on all 3 of your apps and all your expansions, I know you are making hardware amps now, but if those of us who bought the iOS apps to get away from dragging around hardware have to suffer maybe you just need to get out of the IOS business to focus solely on hardware. You guys are making me use AmpliTube more and more, they aren't distracted from their IOS platform apps with hardware integration like positive grid seem to be now. Smh
...More
IF IT SOUNDS GOOD IT IS GOOD.
I have used Positive Grid's BIAS amp design paradigm to great effect since it was introduced. It works like a champ!
What other iOS app lets you create emulations of tube amplifiers driving vintage speakers that would fry themselves in the real world but in BIAS perform their sizzling tones endlessly? Currently this app has no equal.
Frustrating can't get bias fix to work together
This should be easy but I can't see or hear any difference. Also was not working right with my usb audio interface. All I get is mono out even when hard panned and meters show sound only on 1 channel.
Download for Free
11 Archived versions available
This app is designed for iPad only
iTunes Price: $19.99

Category:

Music

Updated:

Nov 13, 2017

Version:

1.8.0

Size:

217 MB

Language:

English

Seller:

Positive Grid Inc
© 2015 Positive Grid
Requirements: Requires iOS 9.0 or later. Compatible with iPad.
Top in-app purchases
Insane Pack

$9.99

Glassy Pack

$9.99

Crunch Pack

$9.99